Porsche makes its 'marque' at Race Retro Sale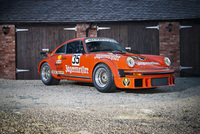 Porsche is Race Retro's chosen marque for 2012 so it's only fitting that Silverstone Auctions has some superb examples from the German car manufacturer up for auction at the event.
Those feeling the need for speed couldn't do much better a 1976 Porsche 934 'Jagermeister' race car, an exact recreation of the original which was one of the most famous and evocative cars to compete in that season's Le Mans and European GT Championship.
This particular model is finished bright orange with a very distinctive livery in the colours of a famous German drink. A two year build project was completed in 2011 when the car made an outstanding debut win at Oulton Park.
The car has been estimated at between £55,000 to £65,000, but for that it will be welcomed at many events worldwide, including the Classic Endurance Racing Series, Classic Le Mans, Masters events, the Silverstone Classic and all European GT Series.
Nick Whale, managing director, Silverstone Auctions, said: "You simply have to look at this car to see the quality of the build and the attention to detail. This is an opportunity not to be missed to own such an exquisite model."
Meanwhile, heralding from a time when Porsche had a rich vein of motorsport successes is a 1973 Porsche Carrera RSR Replica, estimated at between £50,000 to £60,000. The car is correctly based on a 1973 911 shell and the interior has all the correct instrumentation, lightweight carpets and race seats.
Nick added: "A small fortune has been recently spent on this car to produce a Carrera RSR that drives as it should. Because of its correct build specification, obtaining FIA Group 4 papers would be very possible."
Switching from the race track to the rally stage comes a Porsche 911 2.0 Tuthill Rally Car, also estimated at between £50,000 to £60,000. This 1965 model was prepared originally in 1999 by Richard Tuthill himself, part of the father and son team at Tuthill Porsche, the long established and much respected Midlands Porsche rally specialists.
Richard also drove the car himself, scoring a number of remarkable victories. The car was eventually sold to a privateer before the current vendor took ownership and completely stripped and rebuilt the vehicle.
Just a few years older is a 1961 Porsche 356 B Super Historic Road Rally Car, estimated at between £25,000 to £29,000. The car is prepared for Historic Road Rallying and successfully completed the 1999 Monte Carlo Rally Historique. Since then it has been maintained regardless of cost, including an engine rebuild.
The Race Retro and Classic Car Sale takes place at the Race Retro International Historic Motorsport Show, Europe's premier historic racing event, which is held from the 24thto 26thFebruary at Stoneleigh Park in Warwickshire.
Viewing of the lots at Race Retro is all day on the Friday (24th) and until lunchtime on the Saturday (25th), when bidding commences. Also under the hammer will be classic and race cars, motorcycles and automobilia.
Anyone interested in attending the sale will be required to purchase an auction catalogue.
Those interested in submitting an entry into the auction can email enquiries[at]silverstoneauctions.com. Meanwhile, auction catalogues are available online at silverstoneauctions.com
For further information about Race Retro visit raceretro.com.