Unlock a move to a new home in Rochdale with Redrow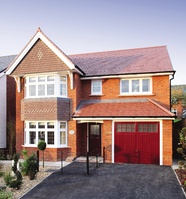 Home owners won't have to worry about selling their old home to buy a brand new one thanks to part exchange from Redrow.
The award-winning developer is offering purchasers the chance to make a quick and easy move from old to new with the help of a time and money saving incentive.
And to explain how the scheme works Redrow is holding a special part exchange event at Birch Grange in Rochdale this weekend (February 18-19).
Julie Harper, area sales manager for Redrow Homes (Lancashire), commented: "The standout choice of quality built family homes at Birch Grange means finding your dream home is easy, but for those with an existing property to sell finding a buyer may prove more difficult. While purchasers may be accustomed to using part exchange when they want to upgrade to a new car, they may not realise they can do the same with their home. In simple terms, if you're selling we're buying."
To help customers enjoy a hassle-free move, Redrow will arrange for a potential purchaser's property to be valued and could make them an offer within a few days. Redrow effectively acts as a guaranteed cash buyer so there's no need to worry about getting caught up in a complicated chain that could delay moving day.
Customers won't even have to worry about paying estate agent's fees as these are taken care of by Redrow.
Birch Grange features a choice of four-bedroom family homes, priced from £214,995.
Some of the properties, including the Balmoral, on the market at £349,995, are now ready to move into.
Like all new Redrow homes, the Balmoral boasts a well equipped kitchen complete with integrated top brand name appliances including microwave, oven and fridge freezer plus tall cabinets and extra wide drawers that offer plenty of storage.
Both the family bathroom and en suite to master bedroom enjoy quality fixtures and fittings and a tile range exclusive to Redrow.
"Designed and built with pride, our new homes are streets ahead of most other properties in the area, making them much sought-after. Unlike some older, second hand properties our new homes won't need lots of work before you can move in," Julie explained.
"They're ideal if you want a quick move as you won't have to worry about repairs, renovations and decorating. But our homes don't just look good, they are practical too. Designed to maximise efficiency and minimise waste, they're well insulated with double glazing and central heating included as standard, which means householders should save money on their fuel bills."
To discover how Redrow could help you climb the property ladder, visit Birch Grange this weekend.
For more information, visit redrow.co.uk.