See the world's weird and wonderful fish with Regaldive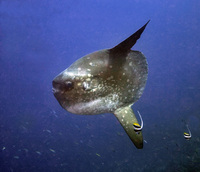 If you fancy seeing something new and unique on your next holiday, then why not consider a diving holiday? Diving allows you to uncover a whole new world that's swarming with life. From real life Nemos to bizarre pipefish that mimic their surroundings, there are a host of underwater creatures that call the seabed home. For those looking to see something out of the ordinary, diving holiday specialist Regaldive, has compiled a list of the world's top five weird and wonderful fish.
Number Five - The Honeycomb Moray Eel
Usually found with its head protruding from a hole, the honeycomb moray eel is one of the most unique eels on the planet. Standing apart from others with its distinctive leopard brown spots and yellow body, the honeycomb moray eel is not to be mistaken for a sea snake. These elongated fish are shy and contrary to their appearance, only attack when under threat.
With a liking for warm, tropical waters, the honeycomb moray eel can be found in Oman. Regaldive offers a variety of dive courses in the dramatic and picturesque waters of Muscat. Ideal for learner divers, Muscat's shallow and sheltered dive sites are teeming with marine life including various rays, the occasional black tip reef shark and turtles. Seven nights at the Golden Oasis Hotel costs from £803 per person, to include flights, bed and breakfast accommodation and transfers, based on two people sharing.
Number four - The Blue Spotted Ray
Unlike most rays that can easily be missed hiding under the sand, there's no overlooking this bright and bold beauty. The blue spotted ray is certainly the weirdest and most wonderful of all rays, with its olive green body, large dazzling blue spots and bright blue tail stripes. The weirdest of the weird, rays have wide, flat bodies, venomous spines but no bones.
Blue spotted rays can be found navigating the warm and shallow waters of the Red Sea in Egypt. Regaldive offers holidays to a wide variety of resorts in Egypt, including Hurghada. This traditional Egyptian resort is suitable for all dive abilities and has a number of safe and sheltered sites for beginners. Home to an abundance of marine life, a huge diversity of corals and four wrecks at the Sha'ab Abu Nuhas reef, Hurghada offers plenty to explore. A seven night stay at the Elysees Hotel costs from £486 per person to include flights, bed and breakfast accommodation and transfers.
Number three - The Ornate Ghost Pipefish
The ornate ghost pipefish is a rare find for divers around the world. With a tiny compressed body, brightly coloured skin, large ornate fins and an elongated snout, the ghost pipefish appears somewhat similar to a seahorse. This weird but truly wonderful fish is a master at camouflage and mimics its surroundings so well that it's hardly ever spotted.
Regaldive offers a variety of dive holidays to the Maldives where the ornate ghost pipefish can be found in hiding. Meeru Island is home to long white sandy beaches and has a protected lagoon, which is exceptionally well suited to learner divers. With over 50 dive sites close by, Regaldive offer packages for all dive abilities, giving everyone the chance to search for this elusive fish. Seven nights at the Meeru Resort with Regaldive costs from £1,415 per person to include flights, full board accommodation in a Beach Villa and transfers, based on two people sharing.
Number Two - The Frogfish
With various colours and textures, the frogfish has incredible camouflaging skills. Weirder still, it sits in a squat like position while waiting for prey. Using its fins like legs to travel slowly across the seabed, the frogfish remains motionless for 90% of the time, but surprisingly has one of the fastest strike speeds on earth.
For those keen to see past its disguise, the frogfish can be found in the warm tropical waters of the Caribbean. Regaldive offers dive holidays to St Kitts, one of the most picturesque Caribbean Islands. With a selection of quiet dive sites, small wrecks and a protected marine park, the calm waters of St Kitts are alive with marine life and are ideal for all dive abilities. A seven night stay at the friendly Bird Rock Beach Hotel costs from £945 per person to include flights, accommodation and transfers, based on two people sharing.
Number One - The Mola Mola
It's no surprise that Regaldive has labelled the mola mola, or as it's more fondly named - the Ocean Sunfish, as the weirdest fish in the world. Resembling a fish head with a tail, the Mola Mola can measure a staggering 1.8 meters by 2.5 meters and is the heaviest bony fish in the world. With a flattened body and a habit of sunbathing at the surface of the water, the bizarre looking Mola Mola is an extremely docile fish.
Native to temperate and tropical waters, the Mola Mola can be found soaking up the sun in the warm waters of Indonesia. While packages are available for learner divers, Regaldive also offers a range of liveaboard packages for more experienced divers in this stunning destination. The MV Mermaid II cruises from Bali to the Komodo National Park, visiting adventurous and challenging dive sites along the way. Home to the largest protected marine zone on the planet, the World Heritage Site of Komodo offers a wealth of underwater diversity for keen divers. Based on an eight night stay, the trip costs from £2,295 per person and includes flights, accommodation, diving, most meals and some drinks.
For further information, or to book, visit regaldive.co.uk.