Thorntons' new limited edition Block is Chocolate at its zest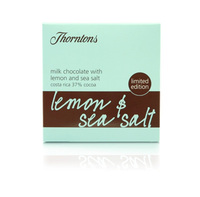 2012 is all about celebrating the best of British, so there is no better time than the present to celebrate the new, exciting limited edition Chocolate Block from Britain's best-loved chocolatier Thorntons.

The latest limited edition bar in Thorntons' popular Chocolate Block range is Lemon & Sea Salt.

One bite of this unusual flavour combination creates a delicious taste experience, as the zesty natural lemon oil balances perfectly with the Cornish sea salt against the backdrop of a smooth Costa Rica 37% milk chocolate.
Lemon & Sea Salt is the latest innovative flavour to be created by Thorntons Master Chocolatier Keith Hurdman and is available from the beginning of February.
Last year Thorntons celebrated its 100th birthday and through its Chocolate Block range celebrated classic British flavours, launching English Rose, Cloudy Lemonade and Bakewell Tart during the year. Watch out for more limited edition flavours coming this summer.
Chocolate Blocks are available for £1.79 each in all Thorntons stores and online at thorntons.co.uk.