Northcroft Fabrics offers a taste of design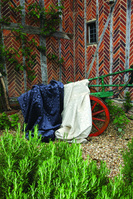 Leading specialist in the design and production of fine fabrics for interior decoration, Berkshire based Northcroft Fabrics, is delighted to once again be taking part in Taste of Design, the interior designer targeted roadshows taking place this May.
Now in its fifteenth successful year, Taste for Design is a fantastic opportunity for interior designers based throughout the country to meet beautiful brands in various stunning locations across the UK. Over the years these locations have provided a sensational backdrop for luxury brands such as Northcroft Fabrics to showcase their products and 2012 will be no exception.
John Kitching of Northcroft Fabrics, who has been appointed chairman of this year's Taste of Design, commented: "The roadshows have always presented an excellent opportunity for carefully selected brands to exhibit their collections to a highly targeted audience in a relaxed, sociable way. Our aim is to make the show accessible to as many interior designers as possible, ensuring that they have the best opportunity to see new products and services for spring 2012."
Northcroft Fabrics will be exhibiting various designs from its exclusive portfolio of luxurious fabrics, including rich striped velvets, elegant floral damasks and intricate Chinoiserie styled silks. The fourteen companies carefully selected for this year's Taste of Design are all exclusively focused on the interior design sector, making it an excellent way for those involved in the industry to see the latest products from exactly the sort companies they are looking to work with. With complimentary lunch and refreshments offered to guests, Taste of Design also presents a great opportunity to network with colleagues and friends, making for a successful mix of business and pleasure.
Venues and dates for Taste of Design 2012 are:
Holdenby House, Northampton - 16th May
Capesthorne Hall, Macclesfield - 17th May
Loseley Park, Guildford - 23rd May
Box House, Corsham, near Bath - 24th May
Entry is by complimentary invitation and for more details or to register interest in attending at a selected venue, interior designers should visit tasteofdesign.co.uk. To find out more about the full range of fabrics available from Northcroft Fabrics visit northcroftfabrics.co.uk.