Cookery courses in Sicily for 2012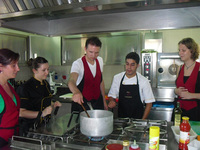 Food and wine are among Sicily's main attractions. Seafood is of course renowned. Grilled swordfish, snapper prepared in a vinegar and sugar sauce, cuttlefish served in its own black sauce. and sardines served with fennel are all favourites.
Sicilian desserts are supreme. Cannoli, tubular crusts with a creamy ricotta and sugar filling; Cassata, a rich, sugary cake filled with the same creamy filling; and of course Sicilian ice cream is probably the best! It is thought that ice cream was invented in Sicily during Roman times, when a relay of runners would bring snow down from Mount Etna to be flavoured and served to wealthy aristocrats. Flavours range from pistachio and hazelnut, jasmine and mulberry, to strawberry and rum. Granita is sweetened crushed ice made in Summer and flavoured with lemons or strawberries. Totally refreshing!
Essential Italy is delighted to offer these two beautiful hotels both of which offer varied, interesting and fun cookery lessons for guests, for an insight into Sicily's culinary delights!
Relais Torre Marabino is a wonderful building dating back to the 1500's and now home to an eco-friendly and intimate hotel that boasts a great countryside position in the south of Sicily, just a short way from the super coastline. The 7 rooms have all been furnished and decorated originally with views across the landscape. Lovely pool and a play area for children.
The hotel chef offers fabulous and fun cookery lessons lasting about 2 hours. Participants prepare typical Sicilian dishes, using as many products as they can which come from the hotel's organic farm. For dinner guests eat what they've prepared in the lesson, unless they haven't eaten it all already! The two hour class costs 30EURO per person.
There is something also very comforting in staying in a hotel that also is one of the most renown wineries of the area. Thirty lovingly cultivated acres of vines ensure that Cantina Torre Marabino produces a wonderful selection of both white and red wine.

Location: Ispica 3km, Siracusa 60km, Catania 110km, Palermo 302km, Modica 18km, Taormina 165km, Noto 22km, Pachino 20km.
Price: From £52.50 per person for a double room per night on a B&B basis.
La Foresteria is located amidst vineyards and olive groves that stretch down to the shimmering sea at Menfi. This stunning area is famous for its fantastic archaeological sites and beautiful nature reserves.
The contemporary feel at La Foresteria is carefully mixed with bright colours and warm woods giving a great feeling of being in a private home. Beautifully decorated and wonderfully spacious, the 14 bedrooms are all completely different in their design. The inviting pool sits to the side of the hotel overlooked by the large glass conservatory.
The hotel offers bikes for exploring the countryside, a small gym and Turkish bath.
Cookery lessons range from an hour and half watching the chef cook (free of charge), to a 3 hour theoretical and practical session making 5 dishes using local produce, followed by eating the meal accompanied by delicious wines (EURO120 per person).
Needless to say dining at La Foresteria is a true experience with typical Sicilian hospitality - tasty local fare is prepared daily and accompanied by an exceptional list of wines.
Location: Agrigento 80km, Trapani 105km, Palermo 108km, Catania 246km, Sciacca 27km, Mazara del Valle 45km. Marsala 64km, Segesta 73km.
Price: From £138 per night for a double room on a B&B basis.
For further information, visit essentialitaly.co.uk.