Spring into summer with great rates at Hotel Ilio, Elba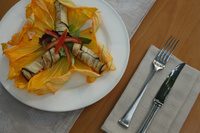 One of the best times to visit the Tuscan island of Elba is between late April and early June, before the crowds arrive and temperatures rise too high. It's also a good time to pick up a great holiday deal with rates at Hotel Ilio, the island's only boutique hotel, starting from just Euros 770 (approx £645) for two people sharing a double room for a week, on a half-board basis.
Spring is a perfect time for hiking in Elba. Several walks start from Hotel Ilio, including one to the island's highest mountain, Mount Capanne (with its many chestnut trees, religious icons and historic mule tracks), and one that hugs the coastline towards the pretty harbour town of Marciana Marina. Horse trekking and archeo-trekking, following the history of Elba via ancient trails, are other options. Hotel Ilio provides itineraries, as well as intimate knowledge of the local area, and guides, if required.
For the more active, there is mountain biking, ranging from beginners' trails to tortuous single tracks for expert free riders in search or an adventurous descent; there are also outdoor activity centres offering guided excursions and courses to improve your bike skills for the less than confident. Road racing is also a possibility.
For bio watching, April and May are definitely the best months to be in Elba, when nature starts emerging from its winter hibernation and the flowers, with their exquisite scents, start blooming. Visitors can walk through woods, alongside lakes and on cliff tops, observing a wide range of fauna and flora from migrating birds to rare species of fern to granite sculpted by the wind and small mammals to wild orchids.
From land to sea, where there are an equal number of opportunities when staying in Elba. SCUBA diving off the island has been rated amongst the best in the Mediterranean – crystal clear waters and the fact that Elba is part of the Tuscan Archipelago National Park mean the aquatic world remains relatively untouched; there are even a couple of Roman wrecks within a few hundred metres of Hotel Ilio. For those without a SCUBA diving qualification, the crystal clear waters mean that you can see almost as much by snorkelling.
On the beach of Sant'Andrea, just a few minutes' walk from Hotel Ilio, a rental centre hires out sea kayaks, windsurfers and boats for those who wish to explore the coast-line in more depth. Lessons are available for those who have not tried these sports before, and there are guided tours and trips for those who do not wish to venture out alone. Your destination might be a deserted cove just round the corner from Sant'Andrea or it might be as far afield as Capraia, a wild and enchanting island that housed a prison in the 19th century.
For more information on Hotel Ilio and to book, visit hotelilio.com.