Responsible travel to Malaysia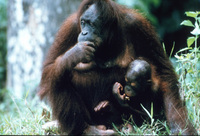 Malaysia is one of the twelve mega-biologically diverse countries which boasts at least 15,000 species of flowering plants, 300 species of mammals, 150,000 species of invertebrates, and 4,000 species of fishes, creating unique niche eco and agro tourism activities. Visitors can learn the difference between black and white pepper in Sarawak or pick durians from the Penang orchards, Asia's most unusual fruit. One of the most popular voluntourism tours to Malaysia is to help save the orangutan, Malaysia's most iconic and strikingly beautiful mammal, with the award winning Great Projects Ltd and immerse themselves in the local culture through Malaysia's network of homestays.
In less than 15 years, the number of orangutans in the wild have nearly halved to 7,000, putting the species on the IUCN (International Union for Conservation of Nature and Natural Resources) red-list. Tourism Malaysia, in conjunction with twice winners of the Virgin Holidays Responsible Tourism awards, The Great Orangutan Project, is helping save the ape with the aid of volunteers.
The project, based in Sarawak, aims to maintain a genetically sustainable population and create well-protected habitats to secure the survival of the species. To accomplish this, the project depends on volunteers to work with the local community to re-establish a successful rehabilitation and release scheme for orphaned or displaced orangutans. This enables volunteers to get up close and personal whilst caring for the orangutans. The volunteerism experience is a fantastic opportunity to help save the orangutan as well as a great hands-on experience for those seeking a career break, gap year, for retirees or even a family seeking an educational experience. Volunteers contribute £1,280 plus travel costs and their invaluable time.
In terms of agro tourism, over 161 homestays are available where volunteers can discover local agricultural practices like feeding the ducks, tending to vegetables or picking seasonal fruits as well as bonding with a local family and community. The volunteers' input helps improve the incomes of small farms and rural communities as well as increasing its economic potential. Other agro tourism activities include visiting fruit orchards in Johor as well as rubber, pepper, fish and flower farms to learn about the variety of products making up Malaysia's agricultural economy.
For more information, visit tourism.gov.my.