Isuzu D-Max - the all-new pick-up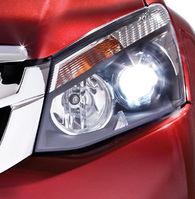 Isuzu UK will launch an all-new pick-up in June 2012. In recognition of its fundamental upshift in performance, quality, efficiency and refinement, the new model bears a fresh name for the UK pick-up sector: Isuzu D-Max.

Building on the solid reputation that its predecessor created for the brand as a manufacturer of highly capable, robust, dependable pick-ups, the new Isuzu D-Max is the result of the most comprehensive new product development programme in the Japanese company's history.

The new Isuzu D-Max features aggressive and imposing exterior styling that reflects its exceptional load-lugging capacity, towing capabilities and off-road performance. Inside, driver and passengers will find a spacious and refined cabin featuring high-quality materials and an impressive standard specification.

Isuzu's new pick-up sees the introduction of extensively redeveloped common-rail diesel engines, which will deliver significantly improved emissions and fuel economy together with more flexible and accessible power and torque.

"The result of an exhaustive development process that included extensive research amongst customers around the world, the all-new Isuzu D-Max is an incredibly appealing package that will deliver in every key area that matters to those in farming, construction and other outdoor industries," said William Brown, General Manager of Isuzu UK.

"Available from June through a dedicated, expanding dealer network, this new model will reinforce Isuzu's strong reputation as the pick-up professionals. I'm confident that the new Isuzu D-Max will continue the record of impressive year-on-year sales growth that has seen the UK become the brand's number one European market," concludes Brown.

Further specifications and details of the Isuzu D-Max will be released next month. To receive more information, register at isuzu.co.uk.