Guernsey - A year in wildflowers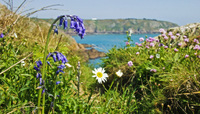 From rare orchids and crocuses to exotic lilies and pink Pimpernels, Guernsey's mild maritime climate and early Spring keep the island decorated in colourful wildflowers for most of the year.
Warmer temperatures than those found in mainland UK gives Guernsey ideal growing conditions, so as well as being the largest producer of clematis in the world and the source of two-thirds of all freesias sold in the UK, Guernsey has an abundance of wildflowers adorning its cliffs, hedge banks and fields from Spring through to Autumn.
In October Guernsey will also host the awards ceremony for the RHS National Britain in Bloom Awards, with this year's theme - Wild About Wildflowers - especially appropriate!
So there's never been a better time to visit Guernsey to discover some of the British Isles' most colourful flora and fauna, complete with picturesque backdrops.
March - Bluebells in the wood
In late March and early April there is an explosion of blue in a secluded wood behind Fort George near St Peter Port when the area becomes endlessly carpeted with hundreds of native Bluebells to mark the start of Spring. Spring in Guernsey generally arrives around three weeks earlier than in mainland Britain.
April - colourful clifftops
Miniature lilac Sand Crocuses and bright pink Sea Thrift flowers make a walk along Guernsey's sunny cliffs a riot of colour at the beginning of Spring. Guernsey has 28 miles of dramatic clifftop paths waiting to be explored.
May - fields of wild orchids and Giant Echiums
The thriving Bridget Ozanne Orchid Fields of Les Vicheries are considered the best in the British Isles. The area is resplendent with four varieties of wild orchids in May including the Loose Flowered Orchid, a species not found in the UK. Also very much in evidence from this time of year are the Giant Echiums; originating in the Canary Islands, they nonetheless thrive in Guernsey, with their spectacular flower spikes reaching heights of three metres or more.
June - a burst of yellow!
June sees the bright Yellow Flag Iris in full bloom in streams and shallow ponds around Guernsey, whilst the equally bright yellow St Johns-Wort can be spotted in the island's hedge banks and coastal grasslands.
July - spot a Guernsey native and an elusive Pimpernel
This month the red-brown spikes of the Channel Island native Galingale flower can be spotted in damp meadows such as those around L'Ancresse Bay in the north of the island. Equally fond of marshy ground is the Bog Pimpernel, a rarer and smaller pink relative of the Scarlet Pimpernel. The warm summer weather also sees the 'St Peter Port Daisy', a real Guernsey favourite although originating in Mexico, adorning and beautifying the walls of the town.
August - tread carefully!
Watch where you step in August, and keep a sharp eye out, as the miniature Guernsey Centuary is in bloom - its tiny pale pink flowers are just 1mm long and only open in bright sunlight. This rare Guernsey species is not found anywhere else in the British Isles. A more riotous bloom is the equally rare Yellow Horned Poppy, and August may be your last chance to spot it growing amongst shingle and stable pebbles above beaches on the north coast and around the RAMSAR-designated Lihou Island.
September - the smallest of orchids
The smallest of Guernsey's wild orchids is the Autumn Lady's Tresses, a spiral of small white flowers which can be found popping up in church yards and short turf. And September is also your last chance to spot the bright yellow flower and red bud of Birds-Foot Trefoil in dry grassland and hedge banks around the coast.
October - the Guernsey Lily
Some say the first Guernsey Lily bulbs were washed ashore from a Dutch ship wrecked on route to Japan, or that they were brought to the island by a Roundhead General during his Civil War imprisonment at Castle Cornet. Whatever the history of the Guernsey Lily, it originated in South Africa and was the first of the Nerine species to be cultivated in Europe. Its bright pink firework-shaped blooms pop up in October as other flora starts to fade.
As well as its wild flora, Guernsey's tranquil and award-winning public gardens are just as much of a treat for floral enthusiasts, hosting exotic and eye-catching displays. Candie Gardens, a rare example of late 19th century public gardens, is home to the oldest known heated glass-houses in the British Isles, while the subtropical gardens of Sausmarez Manor feature many exotic species.
Also of note are the beautifully-restored gardens of Hauteville House, Victor Hugo's 'home in exile', and four period gardens at Castle Cornet, which guards the entrance to St Peter Port's harbour.
The natural flora of Guernsey and its fellow Channel Islands is also celebrated with open gardens, walks and talks during the Spring [14-22 April] and Autumn [29 September – 7 October] Floral Guernsey Festivals, and the Sark Wildflower fortnight [28 April-12 May].
For more information on Guernsey's floral offering please visit floralguernsey.gg or Visit Guernsey's website at visitguernsey.com.