Follow the stars of The Best Exotic Marigold Hotel and jet off to Jaipur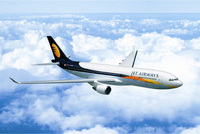 Be inspired by the beautiful cinematography of The Best Exotic Marigold Hotel and jet off to India with the country's premiere airline, Jet Airways, to discover Jaipur and Udaipur where the movie was set and shot.
The Best Exotic Marigold Hotel, which hits UK cinemas this week (24th February ), follows a group of British retirees played by top British cast including Bill Nighy, Judi Dench, Maggie Smith, Tom Wilkinson who decide to "outsource" their retirement to less expensive and seemingly exotic India. Enticed by advertisements for the newly restored Marigold Hotel and bolstered with visions of a life of leisure, they arrive to find the palace a shell of its former self.Though the new environment is less luxurious than imagined, they are changed by their shared experiences, discovering that life and love can begin again when you let go of the past.
From £659 (including taxes and surcharges) per person, you could be following in the footsteps of The Best Exotic Marigold cast to experience Jaipur for yourself. Jet Airways flies to Jaipur via Mumbai and Delhi.
The film adaptation of Yann Matel's bestseller Life of Pi directed by award winning Ang Lee is also being filmed in India and is anticipated to beautifully showcase Kerala and Pondicherry. The movie is due to be released at the end of the year.
Indian market leader, Jet Airways delivers one of the best travel experiences in the skies today and prides itself on its world-class service and comfort combined with warm Indian hospitality. A customer - centric carrier, Jet Airways offers guests a choice of Indian and Western Menus. The Indian menus are designed by the Kensington Bombay Brassiere ( part of the luxury Taj group) and the western menus are created by Michelin Starred chef, Yves Mattagne. Jet Airways has the largest domestic network flying to 75 destinations across India and beyond, connecting to a destination every five minutes.
For more information, visit jetairways.com.