Gourmet hampers from Black Mountains Smokery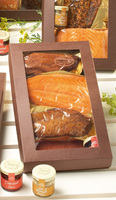 Forget shop-bought pork pie and stodgy potato salad. Elevate your picnic to new heights of affordable luxury with a Black Mountains Smokery gourmet hamper.
Imagine a perfect picnic in the countryside – what do you see? A rug laid out upon soft grass, champagne flutes filled and plates of food emerging. Is it finest Oak Roasted Salmon, sliced Smoked Goose Breast on a bed of baby salad leaves and some Welsh Dragon Smoked Pork Sausage that you can see? This is a Black Mountains Smokery picnic – fresh from the Brecon Beacons in Wales.
Think of all the foods that weren't so common a decade ago but are now ubiquitous. A multitude of hummus, a plethora of olives and an army of pestos have appeared, all fighting for a place in your picnic basket. You can pop edamame beans like they're penny sweets and wrap wafer-thin prosciutto around crisp asparagus stems, but for the ultimate in luxury you should be laying out a spread from the Black Mountains Smokery. Its award-winning hot & cold smoked fish and meats are sure to win over the taste buds of your friends and loved ones.
Highly recommended is their unique, wonderfully textured Cold-Smoked Halibut – served on a bed of crisp, peppery watercress. Just take a fresh lemon and a jar of Horseradish Mustard in the picnic basket and that's all the prep you need to do. How about some thinly sliced, hot-smoked Duck Breast? A delicious way to serve this is on a bed of lentils accompanied by some Red Pepper & Chilli jelly. A must-try is their original Smoked Salmon, gold medal award winner at the Great Taste Awards 2011 and noted for its '...lovely light smoke'. More often than not, it's this product that people fall in love with, earning them their loyal and ever-growing customer base.
Many more items are available from Black Mountains Smokery. Their smoked foods make fantastic gifts because they are luxurious, delicious and very quick and easy to prepare. A selection of gift hampers are available; from the 'Taste for Two' hamper which includes a selection of smoked produce and priced at £39, all the way up to the "The Summer Larder" at £195and suitable for a large family picnic or gathering. Their online shop sells a large selection of complimentary condiments made by Tracklements. Prices start at £2.50.
For further information, visit smoked-foods.co.uk.