Citroen DS4 Racing - A hot blooded concept car for Geneva 2012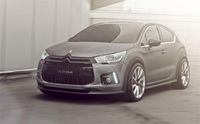 Having sold more than 180,000 examples worldwide, Citroen is continuing to evolve the DS line with the unveiling of a new concept at the Geneva Motor Show - Citroen DS4 Racing.

As with DS3 Racing, Citroen Racing's engineers have taken their multi WRC winning expertise and put their unique stamp on Citroen DS4 to create this hot blooded new concept.

The DS4 Racing concept features new carbon fibre components including an air diffuser, front splitter and wheel arch extensions. The 1.6-litre turbo petrol engine, developed by Citroen Racing, provides up to 256bhp (160bhp per litre), which is a record for a Citroen series production car. This spectacular performance is accompanied by CO2 emissions of just 155g/km.

Citroen Racing's engineers have modified the chassis and running gear with the utmost precision. The chassis has been lowered by 35mm and the track widened by 55mm at the front and 75mm at the rear. The braking system boasts fixed four-piston callipers at the front together with special 380mm diameter discs. The concept is also fitted with larger diameter 19-inch wheels and 235/40 tyres.

Another stand out feature of the DS4 Racing concept is the textured-effect matt grey paint, which catches the light to further enhance the lines of the car. The colour is stylish and modern, ideal for a sports car. Further exterior refinements include a two-tone roof and two-tone wheels with a special DS4 Racing design.