Take a lucky leap into a Miller Home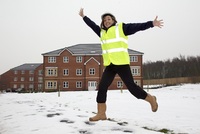 Hundreds of years ago the 'extra' calendar day that occurred once every four years had no recognition in English Law and was 'leapt over' – hence the term 'leap year'.
Thankfully the statutes of England have moved on from them, and indeed 29th February is now superstitiously recognised as a lucky day, with anything that is started on this day to be sure of success.
So, if you are looking for a new property but struggling to find the time, why not take advantage of your extra day in 2012, and pay a visit to select developments or log on to Miller Homes for a great house buying experience.
"Many of the people that visit our developments have been intending to move house for some time, or have had their property on the market for a while," commented Steve McElroy sales director Miller Homes Yorkshire. "Our sales advisers can provide assistance to buyers from all walks of life, whether currently owning or renting."
First time buyers can choose from smaller properties such as two bedroom apartments priced from £74,500 and perhaps qualify for purchase initiatives such as 'FirstBuy' – a Government incentive. Or 'MiWay', Miller Homes' own equity loan scheme that helps buyers to confidently own 100% of their property but pay from only 85% of the price now - and the further 15% later. (Subject to terms and conditions). The percentage you receive will depend on your circumstances. Buyers are able to arrange their own finance for up to 85% part of the fee, with Miller Homes providing the remaining amount.
"Moving house with Miller Homes is not a leap of faith, it is a vote of confidence with an award winning housebuilder," commented Steve. "During 2011 we helped thousands of people find the home of their dreams and, with over 98 per cent stating they would recommend us to their best friend in our latest customer satisfaction survey, we would like to show you how we can make your move this leap year."
With a plethora of properties ranging from one bedroom apartments through to five bedroom luxury houses Miller Homes has an option for all housebuyers wanting to take that leap. For further details regarding initiatives, property types, developments and opening days visit millerhomes.co.uk.