Trade up to Bedfordshire or Buckinghamshire property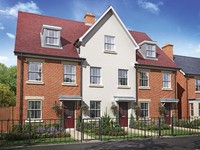 Taylor Wimpey's PX Plus scheme makes it easy for homebuyers to secure their perfect place at one of the leading housebuilder's high-quality developments of new homes for sale in Bedfordshire or houses for sale in Buckinghamshire.
Taylor Wimpey is offering would-be movers all the help they need to trade up to a brand new property for sale in Bedfordshire or Buckinghamshire.
Thanks to the PX Plus guaranteed part exchange incentive at selected Taylor Wimpey Bedfordshire and Taylor Wimpey Buckinghamshire developments, the leading housebuilder can take the stress out of stepping up the property ladder – by offering those with a home to sell a fantastic guaranteed price for their old property.
Steve Rolt, Regional Sales and Marketing Director for Taylor Wimpey, says: "Today's property market can be a real headache for those who want to move. Vendors are often wary of the perils of being in a slow-moving chain, which could easily collapse on the whim of a buyer. Plus, there's no guarantee they will get an acceptable offer for their home – or any offers whatsoever.
"With PX Plus, however, all the uncertainty and stress of the moving process is eliminated in an instant. This fantastic incentive is designed to make it quick, easy and affordable to secure a brand new Taylor Wimpey home at one of our stunning developments of property for sale in Buckinghamshire or houses for sale in Bedfordshire."
With PX Plus, fast-moving house-hunters can secure selected family-size properties at Taylor Wimpey developments across the region, and be assured of receiving a price for their existing property, based on the average of independent valuations.
They are then free to market their old home for four to six weeks to try to achieve the maximum price – safe in the knowledge that they have a guaranteed buyer in Taylor Wimpey if it doesn't sell within that period. Plus, however the customer sells their home, Taylor Wimpey will pay their estate agency fees.
Incentives can be tailored to customers' individual circumstances and are subject to availability. For further information, visit taylorwimpey.co.uk.