World Expeditions epic African journey: 112 days, 10 countries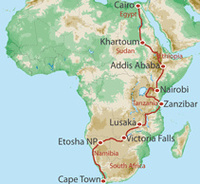 Starting in Cairo you drive through the Nile Valley where you can enjoy ancient Egypt on display before taking a vehicle ferry into Sudan and deep into the beautiful Nubian desert.
In Ethiopia the intriguing histories of Gondar, Lalibela and Bahir Dar provide a fascinating interlude. Descending into the Great Rift Valley in Kenya the journey continues to Lake Navaisha and Lake Nakuru for some wildlife viewing; both a great entree to the vast Serengeti National Park in Tanzania, the next destination.
A serene break at Zanzibar to admire Stone Town and the picturesque island coastline paves the way for the onward journey to Zambia where the South Luangwa National Park parades scores of lion, leopard, giraffe and other big game. From Livingstone you will marvel at the Victoria Falls and enjoy a range of optional tours. Continuing to Botswana you can enjoy Chobe National Park and the famous waterways where huge herds of elephant, buffalo and hippo congregate. Crossing into Namibia watch wildlife in the famous Etosha National Park and climb the largest sand dune in the world at Sossusvlei. Finally, skirt south to South Africa, as this incredible adventure concludes at Cape Town.
Cairo To Cape Town 112 days. Launches 1 November 2012. Joining in Cairo. From £13,990 per person.
For more information on World Expeditions' trips please visit worldexpeditions.co.uk. World Expeditions' all-inclusive policy ensures there are no local payments. Prices do not include international flights, however these can be arranged on request.