Natural Retreats Idaho launches new fly-fishing schools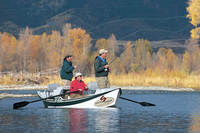 Experience some of the world's finest fly-fishing on the legendary Snake River in Idaho, North America with the new fly-fishing schools launching this Spring at Natural Retreats South Fork Lodge.
Natural Retreats' professional fly-fishing guides, based at The Outfitters, have tailor-made a selection of unique fly-fishing schools to provide participants with specialist insight and first-hand experience on a breathtaking stretch of the Snake River.
Beginners' schools are scheduled to run for 6 days from the 15th - 21st April and 14th - 20th October 2012, it is perfect for novices who have never even touched a rod, or those wishing to expand their token fishing knowledge. Beginners will learn to cast a fly-rod confidently, tie various knots, identity the best bait and try their hand out on the river.
The Intermediate schools, from the 22nd - 28th April and 30th September - 6th October 2012 will provide the fishermen skills needed to fish in any situation and students will leave confident in their fly-fishing expertise including casts, tying advanced knots and identifying fishing conditions and fly patterns.
The Advanced school also from the 22nd - 28th April 2012 will provide advanced anglers with the opportunity to review the basics and spend time perfecting sophisticated techniques on the water including Czech nymphing, depth and weighting, entomology, double-haul casting and presentation.
There will also be a Ladies' Only School from the 29th April - 5th May 2012 for beginner to intermediate anglers who want to gain more confidence and knowledge in their fishing abilities but also to socialise with fellow students in the stunning Idaho surroundings. Other activities and excursions provided with the Ladies' School include wine tasting, a wild-flower guided walk, cookery class from the South Fork Lodge Head Chef, a pleasure float with champagne brunch and an introduction to wildlife and landscape photography.
Each fishing school costs $3,250 (*£2,115) per person, based on double occupancy and include charming, traditional accommodation at Natural Retreats South Fork Lodge that offers all the comforts of home including under-floor heating, Jacuzzi bathtubs, rain-fall showers, kitchenettes, lounge area and a patio overlooking the Snake River. All food, specified drinks, professional guiding, drift boat usage, permits, shuttle transfers, tackle and flies are also included.
"The new fly-fishing schools from our fantastic Outfitters team at South Fork Lodge offers everyone, from complete beginners who don't know how to hold a rod, to experts wanting some professional advice, the opportunity to experience this fantastic sport in one of the most beautiful spots in North America," comments Natural Retreats founder Matt Spence.
For more information, visit naturalretreats.com.