Local residents inspire name for Persimmon's new Alton site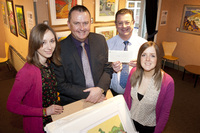 A Hampshire-based house builder has thanked residents of Alton for their help in naming a development in the town by making a donation to the Curtis Museum.
Over the past six months, Persimmon Homes South Coast has been working closely with the local community and the Anstey Residents Group to come up with names for its soon-to-be launched development in Alton and after much anticipation, the house builder has announced that the site is to be called 'Barley Fields'.
Drawing inspiration from ideas suggested by residents of the surrounding area, Persimmon has decided on 'Barley Fields' to pay homage to the malting and brewing industry which has been so prominent throughout Alton's history.
Following the announcement Persimmon Homes South Coast donated £200 to the Curtis Museum, as a token of appreciation to the local community for helping with the naming the development.
Tony Souter, chairman of the Anstey Residents Group, said: "When we were approached for help in finding an appropriate name for the site, we were only too happy to act as a go between.
"It's reassuring that Persimmon is committed to working with local people to honour historical links. Barley Fields is a fitting name for the new scheme and we are pleased we were able to help out."
Brewing was one of Alton's main industries; hops and barley were grown in the surrounding area and barley was malted in the town. The maltings still stand in Lower Turk Street, which belonged to Halls Brewery from 1841, and still produced malt in 1949.
Rob Allen, sales director for Persimmon Homes South Coast, added: "The site's new name is a nod to Alton's rich history, which is exactly the route we wanted to go down. We are so grateful to the members of the local community for inspiring the new name and hope to work with them again in the future.
"At the request of members from Anstey Residents Group, Persimmon has donated £200 to the Curtis Museum as a thank you for their help with the naming."
Persimmon's Barley Fields site is situated on Anstey Road. The development will ultimately comprise of 172 homes which includes an element of affordable housing to enable local people to remain close to their roots.
The development will feature a mix of one, two, three, four and five bedroom properties to suit a whole range of budgets and requirements. The scheme is scheduled to launch in spring. Prices are still to be announced.