What's your ToastTone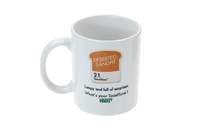 With 94.2 million slices of toast consumed every day in the UK, there is no question we are a nation of toast lovers. Now, thanks to Vogel's - makers of quite simply the best toasting bread in the world - toast lovers can share their love of toast by wearing their favourite ToastTone.
Just as Marmite fans declare their love for their favourite spread by sporting a range of merchandise from cookbooks to key rings, Vogel's have made it possible for toast lovers to do the same. The launch of their brand new ToastTone range will delight toast fans everywhere, available from vogelsbread.spreadshirt.co.uk it includes t-shirts, hoodies, aprons, tote bags and mugs – perfect for your early morning tea and toast routine.
Simon Staddon, managing director of Vogel's said: "Having created a hugely popular app that has enabled our loyal facebook fans to pinpoint their perfect shade of toast, we wanted to take things to the next level. As any toast lover will tell you, no two slices are the same and trying to achieve that precise colour - whether you are toasting it yourself or being served in a café - is a tough challenge. Our new ToastTone merchandise removes that toasting tension - simply wear your ToastTone t-shirt and show the world exactly how you like our toast.
The ToastTone merchandise features 12 of the most popular tones, handpicked from the full 48 shades available on the app, with a nifty description of the tone:

Bareback Beige- Averse to anything in-between
Shaggy Poodle-A bit showy but rather loveable
Turgid Butterbean-A bit squidgy but rather tasty
Dusty Stackcloth-Rough and ready, that's how you like it
Dirty Sunshine-Easy to spread
Deserted Sandpit-Lumpy and full of suprises
Chaffed Saddle-Rustic, slightly faded and a bit leathery
Alarmed Hen-Ruffled and a bit peckish
Crispy Tart-Sweet but somewhat flaky
Radioactive Walnut-Wrinkly, radiant and tasty
Flayed Buffalo-Loves a good hiding
Guru's Beard- A tangled web of introspection
ToastTone Hoodie - £19.90
ToastTone Men's T-Shirt - £16.90
ToastTone Women's T-Shirt - £12.90
ToastTone Mug - £9.90
ToastTone Apron - £12.50
ToastTone Tote Bag - £9.90
To find your perfect ToastTone, visit facebook.com/lovetoastcommunity.
Vogel's bread is available from selected Waitrose, Sainsbury's, Morrisons, Tesco, Co-op and Budgens stores and at Ocado.