Explore your passions with Ranch Rider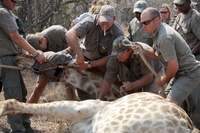 According to Ranch Rider, the traditional ranch holiday now caters to those who are looking to pursue a range of special interests, either as part of the riding experience or as an additional activity.
Tony Daly, Managing Director of Ranch Rider, comments "Riding is still the main reason for booking, but photography, art and even culinary activities allow people to combine other passions within their stay."
The Sweet Grass Ranch is a bona fide cattle operation based in south central Montana. The Crazy Mountains, Timothy Meadows, rolling foothills and sparkling creeks are home to a variety of wildlife; mountain lions, bear and elk dotting the landscape. Travel during the summer and you can make the most of the stunning scenery on photography workshops run by award winning Western photographer, Barbara Van Cleve. 7-nights from £1,298pp (no single supplement) departing 24 June and 26 August. Excludes transfers £110 (per group) Return flight from £739pp.
The Echo Valley Resort & Spa in British Columbia is a fine blend of East and West. Asian architecture, spa treatments and culinary masterpieces are on offer, and foodies can sign up for cookery classes during their stay. The classes include a health kick as there is the opportunity to explore the idea of "eating right for your blood type," with the ranch's master chef. 7-nights from £2,219pp (two sharing), departing June through September. Excludes car hire from £289. Return flight from £759pp.
Budding artists should head to the "adult only" Triple Creek Resort Ranch in Montana. There are special breaks for everyone, from oil painting enthusiasts to sculptors. Each autumn workshop gives guests the opportunity to work with award-winning experts, the stay including a tour of the ranch's own "western genre" art collection and a farewell exhibition. 6-nights from £2,990pp (two sharing) departing 11, 18 and 25 October. Excludes transfers £190 (per group). Return flight from £739pp.
Luxury bush homes, Ant's Hill and Ant's Nest run a special "game census" week where guests play a hands-on role in the capture and release of the local wildlife. Horseback safaris, game drives, an "Out Of Africa" themed dinner (with wine tasting) and a stargazing night sky safari by Dr Philip Calcott are also included in the South Africa based riding holiday. 7-nights from £1,799pp (no single supplement) departing 09 September. Excludes transfers and gratuities as left to guests' discretion. Return flight from £839pp.
Complete with an award-winning 18-hole course, the Rancho De Los Caballeros in Arizona is ideal for guests who want to saddle up or enjoy a round of golf. You can also book a lesson with the resident pro and the full service spa sports a labyrinth, the perfect place to unwind and fine-tune your golfing psyche. 6-nights from £1,409pp (two sharing) departing year-round. Excludes car hire from £250 and private lessons bookable at the ranch. Return flight from £669pp.
A hot spot for twitterers, the Bar H Dude Ranch in the Texas Panhandle lays claim to spotting 60 species of birds in one day. Hundreds of birds make their home in the Lone Star state every year, this region lying within the central flyway, a major South-North migration route. Awash with colourful plumage throughout the seasons, the summer invites you to enjoy the brilliant Swallowtails, Sulphurs, and Fritillaries, while multicolored butterflies feast on the flowering plants. 7-nights from £570pp (two sharing) departing year-round. Excludes transfers £80 (per group). Return flight from £639pp.
For more information, visit ranchrider.com.