Experience a western adrenaline rush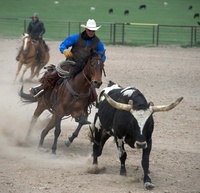 Ranch Rider offers an extensive collection of ranches where guests can participate in cattle work, but one of the latest additions to the riding holiday specialist's Colorado portfolio comes with a fresh twist on the usual cowboy fare. The tour operator is also introducing an all out western experience in the Centennial state, new Medicine Lodge Winter Horse Gathers in Idaho, and "heli-wine tasting" tours in British Columbia.
A western adrenaline rush, at Colorado's Zapata Working Ranch guests are often invited to gather the 400 strong herd of domestic bison. Once hunted to near extinction in the nineteenth century, ongoing conservation programs like those at Zapata have helped to stem their demise and today over 500,000 can be found in North America. The ranch also manages 2,500 head of wild bison, the opportunity to get close to them on horseback an even more thrilling experience. May is a particularly exciting time to travel as cattle branding weeks are available and during this month the bison give birth, the young calves banding together in playful groups. Dramatic landscapes are spied at every turn so there is no shortage of horseback adventures; desert grasslands, alpine forests, wetlands, sand dunes, creeks and high meadows surrounding the ranch. Guests can ride across the back of the Great Sand Dunes National Park throughout the season and those travelling in July have the option to participate in a four night pack trip to the Sangre de Cristo Mountains (19-25 July). Departing on 08 March, the ranch is also running a special photography week dedicated to the spring migration of the Sandhill Cranes. Additional pursuits include, guided nature hikes, fly-fishing and yoga. Six nights with Ranch Rider from £1,495pp (two sharing) including accommodation, meals, most ranch activities (including riding), use of ranch facilities, taxes and gratuities. Excludes transfers and return flight from £895pp. Departures March to November.
At The Colorado Cattle Company travellers will have a shot at becoming a real cowboy, the ranch featured on the back of the City Slickers collector's edition DVD. One of the special programs enables guests to master the art of roping off a horse in just one week, many of the instructors members of the Professional Rodeo Cowboys Association (PRCA). Situated on thousands of acres of deeded prime ranch land, the wranglers look after over 800 head of cattle every summer – gathers, drives and branding dictated by the changing seasons. At the cowboy school, guests can learn how to read cattle, work cattle and improve their riding and horsemanship skills; team penning, team sorting, cutting, reining, cow catch, tag, and other games taking guests from greenhorn to fully fledged cowboy in seven days. Around 70-75 highly trained quarter type horses are provided to suit any riding ability, most registered by AQHA or APHA, and out of the saddle guests can swim in the pool, relax in the hot tub or kick back in the bar. Six nights from £1,459pp (no single supplement) including accommodation, meals, most ranch activities (including riding), use of ranch facilities and taxes. Excludes gratuities, transfers from £130pp and return flight from £895pp. Departures from May to October.
The new Medicine Lodge Winter Horse Drive is the ultimate equine challenge. Offered by Idaho's Silver Spur Working Ranch, guests will be tasked with herding between 30 and 55 head of horses to their winter pastures. A great way to see the Gem state's backcountry, the holiday includes three days of horse gathers across snow laden trails. The Targhee National Forest in the Beaver Head Mountain Range is one of the most impressive locations on the itinerary, the landscape composed of timbered highlands, towering peaks, streams and waterfalls. Riders will swap the saddle for a sleigh loaded with Alfalfa hay and feed the horses before returning to their solar powered cabin; the ranch's facilities including hot showers, and a cosy lodge complete with a roaring log fire. The horse drive can be combined with a skiing holiday at Wyoming's Jackson Hole Resort or a drive through Yellowstone National Park. A great time of year to go, the wildlife including, elk, bison and grey wolves will be easier to spot in the glistening snow. Six nights with Ranch Rider from £949pp (no single supplement) including accommodation meals, horses, tack, activities and taxes. Excludes transfers from £59pp & return flight from £859pp. Departing 15 February, 01 March and 15 March.
One of the world's premier luxury guest ranches, British Columbia's Siwash Lake Ranch is surrounded by 80,000 acres of pristine wilderness. Breathtaking rides to view the Crater Lake and hikes through the sun-drenched meadows are popular pursuits, and experienced equestrians can saddle up solo. The ranch's menu includes an exciting range of organic gourmet dishes, and in 2015 oenophiles might also want to sample this exclusive piece of western heaven on new "heli-wine tasting" tours: a first for the Cariboo region. The adventure will take guests from the ranch to the semi-arid grasslands of the mighty Fraser River Valley, the helicopter touching along the sage strewn bench lands. After an exhilarating hike adventurers will heli onwards for wine tasting and a picnic in the vineyard at the Fort Berens winery in Lillooet - the town located at the start of the province's historic Gold Rush Trail. Six nights with Ranch Rider from £3,995pp (two sharing) including accommodation, meals, most ranch activities, taxes and gratuities. Excludes heli-wine tasting tours, car hire and return flight from £859. Departures May through September.
For more information, visit ranchrider.com.