Uncover Brazil's natural beauty by horseback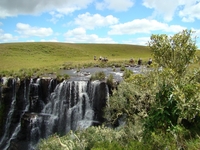 With all the hype about Brazil, not only for the World Cup, but also in the build up to the 2016 Olympic games in Rio, there has never been a better time to visit this South American country! There are many different ways of experiencing the vibrant, energetic Brazilian culture, but by far one of the most exciting has to be via horseback.
In The Saddle offers several different travel itineraries to enable clients to participate in an equestrian adventure across Brazil. With some of the most spectacular beach riding in the world, travellers can embrace the ocean air along the coastal areas or visit the southern states and Pantanal region to get a true feel for the destination's local heritage and way of life.
Beach riding is on every rider's bucket list and In The Saddle's Bahia Beach Ride, situated in the north-east of Brazil, provides riders with the opportunity to stay in colourful guesthouses, canter across wide sandy beaches and explore mangrove forests, rainforests and cliff paths. With delicious African influenced food, the chance to listen to salsa or forró music, and spectacular vistas of the dramatic coastlines, In The Saddles' Bahia Beach Ride will awaken every one of the human senses! Prices start at £1,480 per person for a 6 night stay, not including flights.
Nestled in Brazil's southernmost state, Rio Grande do Sul, you can embark on the magical In The Saddle Canyons and Waterfalls adventure, which begins close to the border of the Aparados da Serra National Park. Ride across the high plateau, through breathtaking scenery of open pasture, and stumble across sensational canyons that can be up to 700m deep! Riding fit and forward-going Brazilian Criollo horses, In The Saddles Canyons and Waterfalls trip enables visitors to explore an enchanting region that is known for some of the country's finest wines and outstanding beef, making this an indulgent and exciting trip! Prices start at £1,009 per person for a 6 night stay, not including flights.
From the coast, to canyon, to one of the few remaining areas in the world where you can join genuine traditional cattle drives. In The Saddle's Pantenal Experience is based in the State of Mato Gross do Sul, which is found in the central west of Brazil. This extraordinary place is the largest wetlands of the Americas – some say the world – and discovering this area by horseback is a privilege. Famous for the rich variety of flora, fauna, exotic birds, fish, mammals and reptiles – this is a haven for nature lovers and offers the chance to join night drives and boat trips with a guide to see the land in it's most natural state. Prices start at £1,351 per person for a 6 night stay, not including flights.
If you want to experience the buzz and beauty of Brazil by horseback, visit inthesaddle.com for more information.