Exclusive Brazilian wine tours to Southern Brazil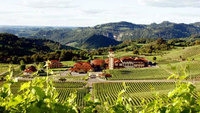 Bespoke Brazil, the UK specialist for travel to Brazil, in partnership with Go Brazil Wines, the UK's only importer specialising exclusively in high quality Brazilian wines, is to offer a new range of exclusive Brazilian wine tours, incorporating the leading vineyards of the Serra Gaúcha and Santa Catarina regions of southern Brazil.
It's been an incredible last few months for Brazil. With so many doubters prior to the World Cup, Brazil put on the most spectacular tournament in history and opened up the eyes of the world to a country which is little known to many people beyond Rio de Janeiro.
"As the UK's specialist for travel to Brazil we are always looking to introduce new areas of Brazil to our product portfolio so clients can experience the vast diversity this amazing country has to offer" says Bespoke Brazil director Simon Williams. "When we were approached by Go Brazil Wines to create a bespoke wine tour we were delighted to partner with a company that shares obvious synergies with us, as well as a real passion for Brazil".
Nicholas Corfe, Managing Director of Go Brazil Wines, commented: "Brazilian wines may be new to many but, with a history that can be traced back to the 19th century Italian emigration to the Americas, Brazil can boast a wine-making industry with a long and proud heritage."
"This year, with the staging of the World Cup in Brazil, we have seen a surge in interest in Brazilian wines – which we expect to continue into 2016 when Rio de Janeiro will host the Olympic Games."
"The key vineyards are concentrated in the far south of Brazil, principally in the states of Rio Grande do Sul and Santa Catarina, where the cooler climate offers a welcome contrast to the much hotter and more tropical conditions further north. With a landscape that is lush and mountainous, and with a local population that is mainly of European origin - as well as Italians there are many German, Hungarian, Polish and Ukrainian descendants - this is a beautiful corner of this vast country which is still largely undiscovered."
"The wines themselves sit intriguingly between the traditional 'Old World' and the 'New World': fresh and fruity in style, generally lower in alcohol than might be expected and with only modest use of oak barrel ageing. Red, white, rosé and sparkling are all produced, with the latter category in particular having attracted the attention of international wine critics."
Wine production in Brazil mainly centres on the town of Bento Gonçalves and the Vale dos Vinhedos, where numerous vineyards can be easily accessed. By contrast, São Joaquim is one of the highest cities in Brazil, situated 1,353 metres above sea level in the state of Santa Catarina, and a major producer of sparkling wines. Here in the Brazilian winter temperatures often drop below freezing, with snow regularly falling in the area – quite a shock to many people who associate Brazil only with sun, sea and samba!
Our bespoke wine tours to Brazil are fully escorted by an English speaking guide as well as a sommelier throughout the time in the wine producing areas. Clients will meet the producers of the wines as we visit the vineyards - which vary in size and sophistication - and enjoy lunch and dinner each day paired with wines from the vineyards visited. The trips will appeal to wine enthusiasts and members of wine clubs looking to experience new, upcoming wine regions of the world. To complement the vineyards we have included some must see sights of Brazil such as Rio de Janeiro and the Iguaçu Falls, as well as the stunning but rarely visited canyons of Santa Catarina. All our trips are tailor-made, so if clients want to extend their trip then we can easily do this too.
For more information, visit bespokebrazil.com/bespoke/brazil-wine-tour/