Marco Pierre White launches exclusive wine collection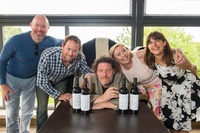 Marco Pierre White hosted a launch of his exclusive new wine collection at his North Somerset restaurant.
The iconic chef visited the Marco Pierre White Steakhouse Bar & Grill at DoubleTree by Hilton, Cadbury House on Thursday 7 September where he unveiled the three specially created wines which have been designed to complement Marco's menus.
The wines have been created by Marco alongside celebrated winemaker Jean-Luc Colombo and are now exclusively available at Marco's UK restaurants.
Guests at the special event enjoyed a three-course lunch or dinner as well as a meet and greet with Marco who personally signed complimentary bottles of his wine. There was also a small art exhibition to view by local artist Katrina Russell.
Mimmo Pomo, manager of the Marco Pierre White Steakhouse at Cadbury House, said: "We had a great day with Marco launching his wine collection here at Cadbury House. It was really special for our customers and Marco fans to experience the launch of a product
Marco is so passionate about.
"It is always fantastic when Marco visits, everyone has a great time meeting him and enjoying a VIP event.
"It's also great to have added the collection to our already extensive wine list. Jean-Luc Colombo is one of the most prominent wine makers in the Rhone Valley and these wines have been specially created with Marco's dishes in mind."
Marco's Steakhouse menu is made up of signature steaks, timeless British dishes and French classics. The ethos is all about classic dishes, simply cooked, using the best locally sourced ingredients.
To complement this menu the wine collection includes the Jean-Luc Colombo Marco Pierre White Blanc, made from Vermentino with a splash of Sauvignon Blanc. This addition is perfect with seafood dishes.
The Jean-Luc Colombo Marco Pierre White Rosé is light, dry and subtle, perfect with fresh food flavours of the Mediterranean while the Jean-Luc Colombo Marco Pierre White Rouge is a rich and generous Syrah (Shiraz) with no oak, just lush, spicy fruit.
For more information about the Marco Pierre White Steakhouse Bristol, visit mpwrestaurants.co.uk.