Drink at the fount of knowledge at the UK's wine hotel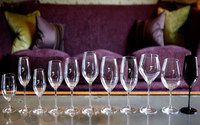 WSET (Wine and Spirit Education Trust) courses Levels 1 and 2 continue at The Vineyard in 2015.
With the UK currently ranked the sixth biggest wine-drinking nation in the world, according to a study by Vinexpo, and consumption expected to increase over the next few years, a wine appreciation course will further wine fans enjoyment and understanding as well as earning them an internationally recognised qualification.
Where better to learn more about wines than at the UK's wine hotel - The Vineyard near Newbury in Berkshire? The hotel has a striking two-storey glass cellar holding over 30,000 bottles from both the New and Old Worlds as well as the award-winning wines from owner Sir Peter Michael's estate in Sonoma County, California. The wines are the perfect accompaniment to the celebrated contemporary French and Mediterranean cuisine, using seasonal and sustainable produce, from award-winning executive chef Daniel Galmiche.
The 49-room Vineyard, with each suite and bedroom named after an iconic international wine, had an above average pass rate of 92% as a venue in 2014 so where better to widen wine knowledge and get a qualification in the process?
For Level 1, no prior wine knowledge is required making it ideal for anyone with an interest in wine seeking a deeper level of understanding. Overnight courses cost from £322.50 per person including a full day of WSET Level 1 Award professional tuition by a WSET-certified tutor in wine training including the exam, wines, a three-course lunch and tour of the vast cellars, one night (Sunday) accommodation with breakfast and use of the spa facilities including swimming pool. Aspects of wine covered at this level include storage and service, grape varieties, food and wine matching.
Day courses cost from £199 per person including a full day of WSET Level 1 Award in wine training with exam, wines, three-course lunch and tour of the cellars. The course runs on Sundays in 2015: 25th January; 22nd February; 22nd March; 19th April; 17th May; 28th June; 9th August; 20th September; 18th October and 22nd November.
Once wine lovers have already successfully passed Level 1, they can raise a glass in celebration and consider furthering their wine education with Level 2.
The WSET Level 2 Award in Wine and Spirits is an informative and structured course run over a weekend and is ideal for both enthusiastic amateurs and those looking to enter the wine industry. The course covers the major white grape varieties including Chardonnay, Sauvignon Blanc, Riesling and black grape varieties including Cabernet Sauvignon, Grenache, Merlot, the key wine-producing regions of the world, food and wine pairing, sparkling wines, fortified wines and the major spirits as well as factors influencing the cost of wines.
The course runs on a weekend from Friday afternoon to Sunday evening. Please note that this is an intensive weekend course and study is required prior to the course.
Overnight course from £1050 per person including two nights in a luxury double room with breakfast on both days, professional tuition by a WSET-certified tutor including tasting up to 44 wines and four spirits, four-course dinner with matching wines on Friday and Saturday, buffet lunch on Saturday and Sunday, wine tasting kit (study pack, text book, moleskin journal, tasting card), examination fees, internationally recognized WSET qualification certificate and lapel pin, exam (50 multiple choice questions to be answered in an hour – minimum 55 per cent required to pass). Without the overnight stay the cost is £699 per person.
2015 Course dates: 12th, 13th and 14th June and 2nd, 3rd and 4th October. (Please book at least 1 month in advance of the start date of the course to allow for the study material to be delivered and for studying prior to the course.)
The Vineyard has the perfect break for label lovers of wine throughout 2015.
the-vineyard.co.uk
The Vineyard, Stockcross, Newbury, Berkshire RG20 8JU