Give Mum the gift of wine with Vin2o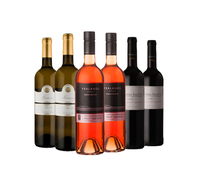 Wine makes a wonderful gift for Mum, and Vin2o has handpicked wines created lovingly by female winemakers in its Mother's Day case.
Mother's Day is just around the corner (15th March) so why not treat Mum to a special selection of wines while raising funds for water charity, Pump Aid.
Vin2o's Mother's Day case features three wines (two bottles of each), carefully created by women winemakers in New Zealand, Spain and Portugal. Priced at £60 for six bottles, the case includes rosé, white and red wines – the perfect accompaniments to family dinners, or as a treat for Mum to enjoy.
Yealands Estate Pinot Noir Rosé, from the Marlborough region of New Zealand, is an award-winning wine, made by Chief Winemaker, Tamra Kelly-Washington. Light pink in colour, with delicate notes of red berries and cream, this fruity rosé has a great texture and finishes with mouth-watering acidity. It goes well with salmon or seafood dishes or can be served with canapés on Mum's special day.
The Mariona, Alicante Blanco 2013, is a complex blend dominated by Moscatel de Alejandria and is a deliciously dry white wine with flavours of lychee, jasmine, and mango. It is made by Scottish wine hero, Pamela Geddes, who lives in Barcelona and has her own wine making project as well as working for Artiga Fustel as a microbiologist-wine-marker. With its exotic aromas and zesty freshness, serve this wine with Asian foods or Spanish cheeses.
German-born Dorina Lindemann is the maker behind the Quinta de Plansel, Plansel Tinto Selecta, 2013 elegant Portuguese red wine. Dorina really broke the mould and has made a successful wine-making business despite resistance from the male-dominated Portuguese wine industry. From the Alentejo region, this dark ruby red wine is full of soft tannins, has a complex character with notes of plum and berries and is great paired with grilled meats or spicy foods.
Vin2o's mission is to sell good wine and use the profits to raise money for Pump Aid – a charity working to supply clean water to rural communities in Africa. For every purchase made on the website, Vin2o donates a percentage of profits to Pump Aid, chosen as the partner charity as it specialises in providing water pumps to smaller, harder to reach communities, often ignored by larger organisations. It provides clean water to communities in Sub-Saharan Africa and since 1998 it has installed more than 8500 pumps providing clean water to over 1.25 million people. Today the charity works mostly in Malawi where it is estimated that 2.4 million people do not have access to clean water.
All Vin2o wines are handpicked with care from smaller producers and cooperatives, always with an eye on sustainable and ethical standards.
In addition to the Mother's Day case, Vin2o offers reds, whites, rosés, sparkling and sweet wines with the option of single bottles, cases of six and 12 bottles, giving wine-lovers the chance to buy quality wines from independent producers who are passionate about their products, consider their impact on the environment and are ethical in their operations.
Vin2o wines are available online now for nationwide delivery so visit vin2o.co.uk to find out more and to place your order. Prices range from £7.25 for a single bottle, to £143 for a case of 12 bottles.
Enjoy fine wines from around the world while supporting Pump Aid as it brings clean water to those who need it. Visit pumpaid.org to find out more about the charity and the work it carries out.
Order by 9th March to guarantee delivery in time for 15th March.
Twitter: @vin2ouk
Facebook: facebook.com/vin2o