Research reveals the depths of our love for Prosecco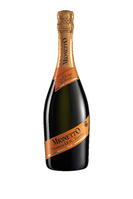 There's no doubt that Brits love Prosecco, so much so that last year we spent £1 billion on it. New research today from leading Prosecco producer, Mionetto, proves that the Italian bubbly is here to stay, with 40% choosing to make it an everyday indulgence to enjoy on the couch at home.
Of the 1,000 Brits surveyed, almost two thirds (59%) state Prosecco is their sparkling wine of choice, with nearly half (49%) buying Prosecco over Champagne due to price. For, one in ten (9%) the more affordable fizz has even replaced previous favourites to become 'the usual', and the 'trendy' option.
In 2014 Christmas Prosecco sales grew 45% from 2013. With sales in 2015 showing no sign of slowing, Retailers should be expecting a Prosecco boom for Christmas, as 41.5 million Brits plan to toast Christmas day with a glass, and a further 38 million planning to celebrate New Year with Prosecco.
'Prosecco bluff' vs Prosecco buff

Despite the fact that Britain is the number one market for Prosecco, only a third (37%) of the nation feels confident in choosing a quality bottle of bubbles. One in five (21%) select their Prosecco based on how the label looks rather than thinking about what's in the bottle, whereas 27% think that region of origin makes a difference to how the Prosecco tastes.
Like fine wine we do acquire the skill with age, and almost half (48%) of over 55s feeling confident that they can choose a good Prosecco, vs 28% of under 34's. But is choosing a good bottle of bubbly as complicated as we think?
Alessio Del Savio, spokesperson for Mionetto, commented: "All Prosecco is made from Glera grapes grown within the Prosecco region in North East Italy. Fruity, fresh and lightly sparkling, the best will have D.O.C.G accreditation, and some of these go for as little as £10. It really is as easy as that."
"Prosecco is the perfect way to make your occasion feel special, even if it's something as simple as celebrating the start of the weekend. So, it's not surprising that it's become so popular in the UK. We're delighted to see so many Brits enjoying the sparkling wine we love to produce."