New 2015 Winter Horse Drive from Ranch Rider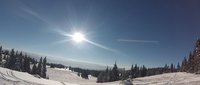 Ranch Rider is introducing a New Medicine Lodge "Winter" Horse Gather. Run by the Silver Spur Working Ranch in Idaho, the terrain and temperature at this time of year will present fresh challenges for experienced riders - the usual back to basics summer camping replaced with cosy cabins and the transfer to the ranch made by horse drawn sleigh.
The exhilarating adventure will take place against the backdrop of the Gem state's breathtaking mountain scenery, riders driving between 30 and 55 head of horses to their winter pastures. After spending the first day acclimatising on the snow laden trails, guests will spend the next three gathering different herds from varied locations: the Targhee National Forest in the Beaver Head Mountain Range one of the most impressive. Its timbered highlands, towering peaks of over 10,000 feet, streams, lakes, waterfalls and rivers make this winter wonderland a major highlight, the pace set by the herd.
At the end of each day riders will swap the saddle for a sleigh loaded with Alfafa hay and feed the newly gathered horses before returning to their own solar powered cabin; the ranch's facilities including hot showers and a lodge complete with a roaring log fire and panoramic views of Idaho's backcountry.
Six nights with Ranch Rider from £949pp (no single supplement) including accommodation meals, horses, tack, activities and taxes. Excludes transfers from £59pp & return flight from £859pp. Departing 15 February, 01 March and 15 March.
The horse drive can be combined with a skiing holiday at Wyoming's Jackson Hole: the resort ranked as one of North America's best. Alternatively, there is option to head to Yellowstone and view its steaming geysers and dramatic canyons - the national park's iconic wildlife including elk, bison and grey wolves easier to spot in the glistening snow.
Ranch Rider offers cattle and horse drive holidays throughout the summer ranch season and beyond. Guests can saddle up for a spring cattle drive at Montana's Dryhead Ranch (horse drive options also available), while at Wyoming's Vee Bar Ranch there are weekly cattle drives which are suitable for children. The tour operator also features opportunities in Canada, riders gathering yearlings or heifers and driving the herd across the beautiful surrounds of southern Alberta.
For more information, visit ranchrider.com.