Adult only riding holidays on offer this autumn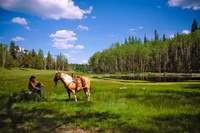 When the summer comes to a close many ranches across North America cater specifically to grown ups, various adult only weeks ideal for the new breed of "framily" travellers. The term applies to close groups of friends who are considered to be a surrogate family, and out west there's certainly more than one way to bond whether the group is cowboy or cowgirl only or a mixture of both. An exciting time to travel, during Autumn city slickers will have the opportunity to round up the cattle, many ranches gathering the herds and driving them to their winter pastures. The varied experiences also appeal to foodies, oenephiles and guests with an interest in health and wellness.
Tony Daly, Managing Director of Ranch Rider comments, "If you're not restricted to travelling during the school holidays there are undoubted advantages on price. Those who book in September and October will enjoy discounts of up to 30% or more on their ranch stay and there will also be significant savings on flights."
Hosting only six to eight couples during September, the Siwash Lake Luxury Guest Ranch is perfect for groups of friends in search of a more intimate ranch experience. Based in British Columbia, the ranch has a strong focus on health and wellness, the tented Sigh-wash Spa set in a tranquil forest clearing. Hot stone massages and aromatherapy body wraps are just some of the available treatments, guests treated to the aroma of sun-warmed pine under the magical canvas while birds serenade them from above. Guided hiking, horseback riding and wild swimming in the lightly mineralised waters of Siwash Lake enhance each guest's physical well being, and there is the option to forage with the chef in the garden and nearby forest the ranch's menu featuring organic cuisine. Six nights with Ranch Rider from £3,560pp (two sharing) including accommodation, meals, most ranch activities, taxes and gratuities. Excludes car hire from £289 and return flight from £859pp. Departing 01-30 September. Any day departures.
Located in the valley of the Big Horn National Forest, the Paradise Guest Ranch certainly lives up to its name. From late August through September the ranch is adult only and taking less guests over this period there is much more flexibility in the riding schedule. With varied terrain and endless trails this is a major plus factor for anyone hoping to capture the beauty Wyoming's wilderness on horseback. Meadows, wooded paths, creeks, steep mountain sides and the Hunter Mesa, a grass covered plateau enveloped by the majesty of the Big Horns are encountered on the many equine adventures, and the ranch runs "all-day" rides to Cougar Canyon and Red Canyon. Seven nights with Ranch Rider from £1,265pp (two sharing) including accommodation, meals, most ranch activites, taxes and gratuities. Excludes transfers of £360 per group and return flight from £879pp. Departing up to 21 September.
At Idaho's Red Horse Mountain Ranch, guests can pair the beauty of the fall colours with over 30 regional wines, the daily tastings including palette pleasing vintages from the Pacific Northwest. Cedar planked salmon, filet mignon and crown pork roast are just some of the mouth watering dishes on the menu, a seven course dinner complimented by specially chosen wines over the week long stay. From the lesser known to the well known, the labels are as varied as the ranch's activities, guests sampling wines from Chateau Ste. Michelle, the oldest and most acclaimed winery in Washington and unearthing the region's hidden treasures. The perfect place to indulge without feeling the slightest pang of guilt, the ranch features a outward bound challenge course, rock climbing wall, a zip line and a string of sure footed horses. Six nights with Ranch Rider from £1,618pp (two sharing) including accommodation, meals, most ranch activites, taxes and gratuities. Excludes transfers from £60pp and return flight from £869pp. Departures on request. The ranch also runs a six night Girlfriend Getaway over the fall period. Departing 28 September.
Take up the reins at the McGinnis Meadows Cattle & Guest Ranch, and trail the herd to their winter pastures. The Fall Gather runs from the end of September through mid October, guests spending long days in the saddle and journeying across 75-acres of Northwest Montana. A wonderful time to hit the trail, riders will chart their way across, mountains, lakes and rivers, the brilliance of the season's colours falling in all sides. Six nights with Ranch Rider £1,365pp (no single supplement) including lodge accommodation, meals, most ranch activites and taxes. Excludes transfers £50pp, gratuities as left to guests' discretion and return flight from £839pp. Departing 21 September, 28 September and 05 October.
For more information, visit ranchrider.com.