Kia claims two more red dot design awards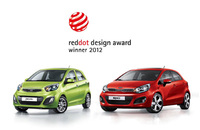 Kia has been awarded two top honours for its Picanto and Rio models in the 2012 red dot design competition.

Kia's striking A-segment Picanto and B-segment Rio were both winners in red dot's internationally-acclaimed 'Product Design' category, in a competition that saw more than 4,500 products entered by 1,800 manufacturers from 58 countries.

These latest wins bring Kia's red dot awards total to six, with the Soul winning in 2009, Venga in 2010, and both Sportage and Optima claiming top spots in 2011. Optima was also named 'best of the best' in 2011 – the red dot competition's highest accolade for ground-breaking design, for which only the best products in each category are eligible.

"We are very proud of the red dot awards for the Picanto and the Rio," comments Kia's Chief Officer Peter Schreyer. "They are a great tribute to our entire global design team, because all three Kia design centres were involved in the development of both vehicles. I am particularly happy about this thoroughly creative and successful collaboration between our teams in Korea, Europe and America."

The red dot product design awards are one of the world's major design contests and have been held by the Design Centre of North Rhine-Westphalia since 1955. The 2012 awards will be presented to winners at a gala event at the Alvar Aalto-designed opera house in Essen, Germany, on July 2 2012.