Fred Ponnavoy's Chocolate Blinis with Smoked Salmon and Poached Lemon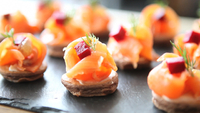 Easter isn't just for children. It's the ideal time of year to indulge in all things chocolate and the pudding extremists at Gü understand this better than most. Get into Easter for grown-ups with an expert lesson on party canapés to serve at glamorous gatherings from Gü's head chef, Fred Ponnavoy.
In this video, Fred demonstrates how to add a savoury twist to a tasty chocolate blini with an exclusive recipe preview from the Gü Cookbook; launching October 2012. Perfect for Easter entertaining, these indulgent treats work well to help create a sensational soiree.
Makes 40 Blinis
Ingredients
4 lemons
100g caster sugar, plus extra 1 tablespoon
2 medium eggs
50g plain flour
½ teaspoon baking powder
1 tablespoon cocoa powder
5 tablespoons milk
Pinch of salt
2-3 tablespoons vegetable oil
To serve
200 ml crème fraiche
200g smoked salmon
1 x cooked beetroot (not in vinegar), cut into 1½ cm cubes
handful of pea shoots or sprigs of dill, to garnish
Method
First make the poached lemon. Using a sharp knife, peel the lemon then cutting either side of the membrane, remove the segments one by one.
Tip the 100g of sugar into a small pan with 100ml water and bring to the boil. Remove from heat and slide the lemon segments into the syrup. Leave to cool at room temperature.
When ready to serve, separate the eggs, putting the whites into one bowl and the yolks into another. Sieve the flour, baking powder and cocoa powder together.
Add the milk to the egg yolks and mix with the dry ingredients to make a smooth thick batter. Whisk the whites with the salt and the tablespoon of sugar until they form stiff peaks and carefully fold into the batter.
Heat a non-stick pan on a medium heat, add a little oil, then pour small spoonfuls of the batter into the hot pan and fry for 20-30 seconds on each side, hook them out with a fork or spatula, keep warm and continue with the rest of the batter.
To serve, spoon a little crème fraiche on top of the blinis, top with smoked salmon, one cube of beetroot, a segment of poached lemon and a couple of pea shoots or dill sprigs.
For more information and further recipes, visit facebook.com/GuUK