Get fit in Paradis paradise with Zodiac from Gladiators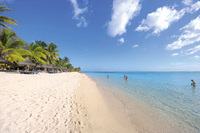 Luxury Mauritius travel specialist Beachcomber Tours has teamed up with former 'Gladiators' star and fitness guru Kate Staples, to offer guests a rejuvenating week of fitness in the glorious Mauritian sunshine.
Between 4th - 8th June, Kate will run a daily Fitness Camp at Beachcomber's luxury Paradis Hotel & Golf Club, on stunning Le Morne Peninsula.
Suitable for both avid fitness enthusiasts and complete novices, the dynamic hour long sessions will include a fusion of core balance and conditioning, yoga positions, group exercises, short distance jogging, circuit training, obstacle courses and mat work-outs. It's a wonderful opportunity to get fit and feel great in a stunningly beautiful setting, leaving you guilt free to indulge in all the fantastic facilities Paradis has to offer, from mouth watering cuisine, luxury accommodation and a world class spa, to a host of land and water activities.
Kate's an ex-British athlete whose achievements include breaking 42 national records. She became something of a national treasure through her role as Zodiac in the hit TV show, 'Gladiators'.
Together with legendary decathlete Daley Thompson, Kate set up Adventure Boot Camps, which run fitness boot camps around the UK. The programmes offer professional fitness instruction, nutritional support and motivational training - including fun and energising activities out in the fresh air.
A week at the luxurious Paradis Hotel & Golf Club costs from £1,740 per person sharing on a dinner, bed and breakfast basis. This price includes Economy Class flights from London and private hotel transfers. The hour long, fitness sessions will cost £20 per morning or £80 if you book up for the full week, from Monday 4th June to Friday 8th June 2012.
For further information or to make a booking, visit beachcombertours.co.uk/fitness-week