The Aruba Marriott Resort makes wedding planning easy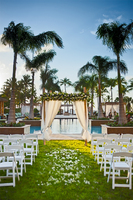 The Aruba Marriott Resort & Stellaris Casino is offering a full-service destination weddings package through its website, weddings.arubamarriott.com, dedicated exclusively to help couples plan their dream wedding. From intimate seaside nuptials to ceremonies of grandeur, the Aruba Marriott Resort's weddings website provides guidance for couples on their journey to wedded bliss.
Designed by Aruba Marriott Resort's wedding specialists, weddings.arubamarriott.com appeals to both planners and do-it-yourself brides, with information available from various on-property wedding locales (beachfront or poolside with a Kunuku arch) to wedding packages (from a Caribbean Wedding package to a la carte services). Information on group rates and hotel reservations are also easily accessible, as well as an image gallery, details on Aruban marriage requirements and anything else couples need for marriage.
"The Aruba Marriott Resort is a true one-stop-shop for weddings," said Sales Coordinator, Abigail van der Linden. "Once couples book their wedding, we'll take care of the remaining details to ensure a romantic and memorable ceremony."
One of the most popular destination weddings offered at the resort is the Caribbean Sunset Wedding Package, which includes ceremony services and a cocktail hour followed by sit down dinner including wine. The package serves from 30 to 50 guests. Rates begin at $12,500.
Whether looking to have an intimate Kunuku arch beachfront ceremony, or ballroom extravaganza, the Aruba Marriott Resort offers a variety of wedding packages in an exotic and romantic setting. Customized weddings are attainable with the endless choices provided by the a la carte services menu. Aruba Marriott's certified wedding specialists are knowledgeable in identifying the island's best cake makers, florists, photographers, videographers and more. To learn more about planning your dream wedding at the Aruba Marriott Resort & Stellaris Casino visit weddings.arubamarriott.com.