Celebrate the equinox in style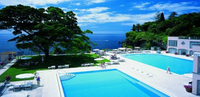 In the northern hemisphere the March equinox marks the start of spring and has long been celebrated as a time of rebirth. And in celebrating spring and the wealth of floral beauty that it brings each year, the city of Funchal will once more be hosting Madeira's Flower Festival. The Flower Parade will be held on 22 April.
As one of the island's most colourful celebrations it is more than just a tribute to the flowers of Madeira island. It also provides the opportunity to keep Madeiran traditions alive and transforms the island's capital into a magnificent stage for all kinds of artistic and cultural expression.
Reid's palace joins in the festivities with the Reid's Classic Auto Show on 21 April. The first car that came to the island was brought by a guest of Reid's in 1904. Keeping up with tradition, and demonstrating strong links to classic cars, the hotel will host competitions for elegance, restoration and originality, with some outstanding and very beautiful classic cars exhibited at the front of this iconic hotel. A true celebration for classic car lovers and a delight for all. In the evening the hotel will hold its Spring Flower Ball Dinner.
Award winning AiTO tour operator, Classic Collection Holidays, offers 3 nights at Reid's Palace from £1112 per person based on 2 adults sharing a charming room on a bed & breakfast basis. Price includes return flights from London Gatwick (other UK departure airports available) to Funchal and private transfers. Departs 20 April.
For more information, visit classic-collection.co.uk.