New Zumba boot camp in Suffolk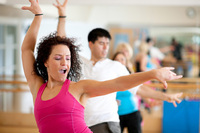 Drop a dress size in one week by dancing yourself slim with the introduction of Zumba at New You Boot Camp's 7 day residential Boutique Boot Camp in Suffolk.
The introduction of daily Zumba combined with New You Boot Camp's famous military inspired programme now offers clients an alternative form of exercise that's not only a great way to boost morale for when the going gets tough but also great for raising the heart rate and burning off unwanted pounds whilst having fun!
Clients don't need to know how to dance, they just need to follow the instructors lead! The steps are oh-so-easy to pick up with routines that are specifically designed to shape you up, and fast! The workouts include a mixture of interval training sessions, where fast and slow rhythms and resistance training are combined to tone and sculpt. And what's more, you can dance off up to 500 calories an hour!
The new Boutique Boot Camp programme also sees the introduction of New You Boot Camp's bespoke Life Coaching concept designed to help clients break old habits and make new ones enabling them to tackle unconscious behavior that can sabotage them from reaching their goals. Providing an effective and powerful way to initiate real change forever and ensuring their journey to the 'New You' is a life changing success.
When it comes to food and nutrition at the new Boutique Boot Camp our award winning chefs & nutritionists have devised a New 'Therapeutic' weight loss plan and mouth-watering menus using ingredients and spices that will help minimise sugar cravings, burn stubborn fat and stabilise blood sugar levels.
Situated away from all the hustle and bustle of life, the new Boutique Boot Camp property welcomes you to a break with a touch of comfort and style - a glamorous house surrounded by idyllic landscaped gardens. Close to Woodbridge and the Heritage Coast, this location is something very special. Situated in Ipswich only 1hr from London and conveniently close to all transport links, this property makes the perfect setting and location for our exclusive Boutique Boot Camp.
What's Included?
10-12 Hours per day training. Including outdoor adventure training such as full day hikes and half day cycling.
Daily Zumba Dancing sessions designed to dance yourself slim as well as boost confidence.
Pre Boot Camp Home thyroid, adrenals and immunity function DIY tests.
Leading Nutritionist will be onsite for lectures, workshops and one to ones.
You will be following the New You Boot Camps Exclusive Therapeutic Nutritional Programme during your stay.
Leading Life Coach will be onsite for lectures, workshops and one to ones.
Opportunity to have a goal setting and personal one to one with trainer to work on individual training plan.
Cookery demonstrations from our wonderful chefs who will take you through some fabulous healthy recipes.
Compelte body analysis to enable the team to provide you with real, honest advice
All food, drinks and training are included. There are no hidden costs.
Pick up and drop off from Woodbridge train station on arrival and departure day at specified time.
Prices for the week at our New You Boot Camp's - Boutique Boot Camp start from: £1,180 pp
For more information including boot camp dates visit newyoubootcamp.com.