MC Truck & Bus triumphs at MOT first time pass rates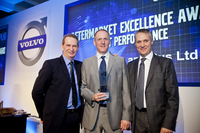 MC Truck & Bus has once again demonstrated its success by smashing past the national average first time HGV MOT pass rate for 2011, achieving an outstanding 95.1% average across the company.

The national average first time HGV MOT pass rate was 77.7% in 2011. MC Truck & Bus, which has eight depots spanning the South of England covering Kent, Essex, Sussex, Hampshire and Dorset, managed to eclipse that figure and prove their dedication to vehicle operators.

As the main Volvo dealer for the South of England, MC was further honoured to receive an Aftermarket Excellence award from Volvo UK, presented to them by Volvo Group UK Managing Director, Goran Nyberg . The figure of 95.1% meant they were the top Volvo dealer for first time MOT pass rates in the UK. Peter Booth, MC Group Director, accepted the award on behalf of MC and commented "We are thrilled to have earned this accolade. It not only demonstrates the quality of our people, our skills and our facilities but also our commitment to providing an excellent service based around customer care."

The MOT testing service has proved so popular that many of MC's depots such as Southampton and Burgess Hill, which operate VOSA ATF'S (Authorised Testing Facilities), have increased their number of testing days to meet customer demand.
The Burgess Hill facility first began offering on site testing at the beginning of 2010. Since then testing has increased from one day to four days a week. The depot achieved the highest first time pass rate within MC Truck & Bus for 2011, with an average of 99.5%. In 2012 their first time pass rate to date stands at 100%. Burgess Hill Depot Manager, Paul Beach, recognises the link between high demand and strong pass rates. He said "The high demand for MOT preparation and testing carried out by us is testament to our dedication to getting things right first time for our customers. We understand the importance of getting an MOT pass rate first time in keeping our customers vehicles on the road, working and earning."

For MC Truck and Bus, which has Volvo Trucks and Isuzu Truck (UK) franchises, their testing facilities have not gone un-noticed by operators who run other makes of trucks. With more MC depots now offering on site testing and increasing the days of operation, this is a notable advantage to many operators who would otherwise have to travel further, in more time-consuming and costly trips to another site.

With their current pass rate marking a huge achievement, MC is determined to keep successfully meeting customer needs. Peter Booth adds "We're committed to all our customers and will continue working to provide all their transport solutions whilst exceeding their expectations."