How to get high-profit loads for your trucking business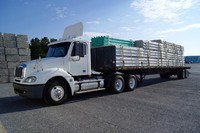 It is not possible to live in this world and ignore the fact that the trucking industry is rapidly growing. It is one of the most profitable industries in the world because of the high demand for goods and services. Trucking companies work hard to deliver the goods and services to the customers as soon as possible. Getting your company started with all the legal requirements and learning how to get an MC Number may be essential for starting the business. But after that, one of the most important aspects of any trucking business is the loads. Without loads, your trucking company will not make any profit. Now the question comes of how you can get more loads for your trucking company? There are a lot of ways to get loads for your trucking business.
Research for load boards
Load boards are basically classified ads boards that list available loads for truckers. So you can either choose to load boards that are free, or you can get a subscription to load boards like Load Boards and Trucker Path. Load Boards is an online platform that provides information on loads, trucking companies, and truck drivers. It also offers services for drivers who want to rent trucks and for trucking companies who want to find drivers. Trucker Path is another load board that allows truckers to find loads and also to find others truckers to collaborate with.
These loads are usually posted by brokers. There are hundreds of load boards out there. Some of the most popular load boards are loadboard.com, truckersreport.com, truckloadcentral.com, cargomate.com, and many more.
Network with freight brokers
Freight brokers play a crucial role in the freight industry. The services offered by freight brokers can be career-changing for a truck driver and take your business to the next level. Freight brokers are essentially sales agents for trucking companies. They help trucking companies find loads for their drivers. By reaching out to freight brokers, you can get loads for your trucking business. If you need help in networking with freight brokers, you can check the internet or search the yellow pages.
Look for local haulers and Hire dispatchers
In today's highly competitive trucking industry, finding truckload or LTL (Less Than Truckload) loads can be a challenge. First, you need to find the right load, and then you have to get the load, which can be a difficult process at times. The load has to be one that you can haul and sell.
Trucking companies that operate from the heart of the country can look for local haulers and hire dispatchers in order to get high-profit loads. Local haulers are the primary source of short-haul loads. They are the best source of information on what is going on locally. They are the first to know when a material or product is being transported locally. Hiring a dispatch service or dispatchers is important to ensure that you are getting the most out of your haulers.
Join industry groups
Joining industry groups is one of the easiest and most effective ways to get loads. Trucking is a high-demand industry with a shortage of drivers, so to maximize your chances of getting loads, join industry groups. Industry groups are free to join, and they are a great way to meet other truckers and get to know the local shippers and carriers in your area. Joining industry groups is a great way to get to know your local carriers and shippers and to get your name out there.
Work smarter
The most important variables affecting profitability in the trucking business are the rates per mile and the load size. These are independent of each other, meaning that load size can be increased without necessarily increasing the rates per mile. However, when rates per mile increase, it becomes easier to fill a trailer with a larger load. This is because there is a fixed cost of operating a truck. A trucking company can achieve the same rate per mile by either charging a higher rate for a short trip or filling a long trip with a lower rate. The average of the two rates per mile is called the "average rate". The profit from a load will be a combination of the average rate and the load size. The profit from a load is given by the following formula: profit = (load size * rate) - (fixed costs * distance).