New safety features on the 49x Western Star Truck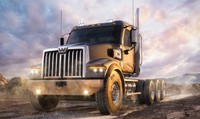 When you're in the market for a new commercial truck, it can be challenging to know what to choose. One way to guide your decision is to consider the type of jobs you'll need the truck to perform. If you've already found several trucks that can perform adequately, you might want to look at the newest features available in a current model, like the Western Star 49X.
Versatility
When you're looking for a vocational truck that can perform a variety of jobs depending on what you might need on the job site, it helps to find one that has been designed for a wide array of applications. Companies that produce big rig trucks will often work hard to produce a widely diverse vehicle rather than one that is specialized. That is because it is common for trucks to be configured later on to match a specific job type.
When you decide to invest in a Western Star 49X truck, you'll gain the assurance of choosing a truck that's highly adaptable and guaranteed to last. However, more power and durability aren't the only things that should influence your choice; you'll also want to consider safety features.
General Safety Features
The 49X isn't just designed to be safe; it also features advanced safety features included in the Detroit Assurance system. These include:
- Active Brake Assist 5
- Side Guard Assist
- Adaptive Cruise Control
- Tail Gate Warning
- Brake Hold Mode
Windshield Upgraded for Safety
Another safety advantage included in the Western Star 49X is the exceptional windshield offered in this truck model. The reason that the new windshield offers extra safety features is that it has
- A Wider Wiper Zone
- A Solar Film
- Designed as One Piece
- A Field of Vision that is 28% Larger than Prior Models
If you've worked driving a truck for long-haul shipping or any other heavy-duty job, you probably already realize how essential a large and clear windshield is as a safety factor. After all, if you're worried about your field of vision getting blocked or minimized, it becomes much more challenging to avoid maneuvering a large vehicle into a dangerous situation.
Superior Headlights
Road visibility depends significantly on your windshield, but powerful headlights are crucial for highway safety. Strong headlights contribute an even greater amount to your safety in poor weather. If your lights cannot adequately illuminate the road, you could become subject to dangerous conditions without realizing it.
Here are a few of the reasons why the headlights on the Western Star 49x create a safer driving experience:
- Heated Lenses
- Integrated Amber DRL
- Wide Illumination
- Impact Resistance
Factors like better turning signals and less chance of damage could make the difference between a collision and a successful day on the job.
Combine all of these new factors makes for an extremely safe vehicle suitable for long working hours. If you're looking to upgrade to a truck that offers an increased sense of safety than what you're currently driving, talk to your truck dealer today.