Get professional results fast with G3's Turbo Detailer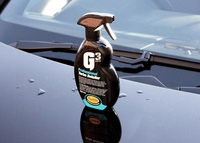 Farécla has launched G3 Turbo Detailer, a rapid detailing treatment from the technically advanced G3 Formula range and designed to complement the four step G3 system, that gives you the power to get professional results at home without the need for professional skills.
G3 Turbo Detailer is an everyday, easy-to-use, spray treatment that removes light soiling on all exterior surfaces, restores showroom shine and tops up the protective wax layer on your bodywork.
Fast-acting and effective on paintwork, plastics and chrome, G3 Turbo Detailer is the ideal product to use between washes to keep your car in showroom condition. Perfect for removing light dirt, dust and fingermarks, G3 Turbo Detailer is safe to use on all paint types and leaves a just-waxed high gloss finish.
G3 Turbo Detailer works well as a lubricant with the entire G3 Formula range and is particularly effective with G3's recently launched Clay Bar. G3 Turbo Detailer allows the Clay Bar to move smoothly over bodywork, removing ingrained dirt and contaminants to leave your paintwork in prime preparation for further paint renovation.

G3 Turbo Detailer comes in a 500ml bottle and retails at just £8.99. The entire range of Farecla's G3 Formula products is available from all Halfords stores.
With over 50 years experience in developing some of the most effective and technologically advanced surface finishing products available, Farécla's G3 has long been the professionals' number one product of choice and used in bodyshops throughout the country. To find out more about G3 Formula's Turbo Detailer, visit g3pro.com.