Autoglym Rapid Aqua Wax... Shhh.. Don't tell anyone!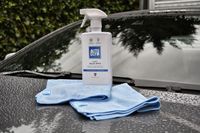 Autoglym's multi-award winning and revised Rapid Aqua Wax Complete Kit has presented something of a conundrum to hard-suffering car enthusiasts by removing several of the lengthy steps needed to get a showroom ready shine on wash-day. This has led many true detailing aficionados to ask whether this product might be better off remaining as the industry's best-kept secret. After all, where's the glory and adulation in getting a show quality shine in mere minutes?!
Besides, anyone who has truly ever suffered for the love of their automotive hobby knows the drill each Sunday morning; a thorough pre-rinse, a careful lather and soak, followed by a judicious bout of wiping and drying… followed by a little extra wiping… and more drying. Then, a short wait. Only once the body work is drier than a Saharan flip-flop may you start judiciously applying the polish or wax, which then has to be removed afterwards, of course. While it may mean your Sunday dinner has gone cold at this point, you can revel in the unparalleled sense of fulfilment and satisfaction that only hand-buffing your car can truly bring. This is how it has always been since car care began!
The problem is, nobody told the talented boffins in Autoglym's Letchworth factory that such is the form on these things, so the impudent upstarts created Rapid Aqua Wax, which can easily be applied once the car has been washed, yet is still soaking wet! By simply wafting a few squirts of the carnuba-based wonder liquid over the undried bodywork, and then wiping down with one of microfibre cloths that come in the kit, the recipient vehicle gets comprehensively waxed as it is dried, leaving a flawless shine in minutes, with just a quick buff to bring to an unfeasible shine - saving ridiculous amounts of time for other the other wonderful things that Sundays have to offer, like mowing the lawn, referee-ing the kids or better still, sneaking off to the pub for a cheeky one.
To add insult to injury, as if this blatant consequence-free corner cutting wasn't enough, those pesky lab genii also made it safe to use on plastic, glass and rubber, too! All surfaces, in fact, so you can spray it sparingly with abandon before simply wiping it away in just a few seconds. It means you can scandalously create the effect of several hours' worth of work in a few scant minutes. This doubtless means you're going to be given other jobs to do with the time left over, so our advice is to keep this small fact to yourself! None of the other real enthusiasts will ever know you cheated, either!
The kit contains everything you'll need to fool everyone; a 500ml bottle of Rapid Aqua Wax and two Microfibre Finishing Cloths. As for the excuses as to why you're in the pub when you're supposed to be toiling away on the driveway – you're on your own…
Priced at £ 14.99 for the complete kit, it's a garage shelf essential!!