6 ways to keep your car clean during the winter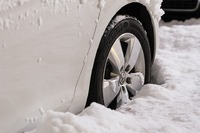 Thanks to all the grit, salt and grime on the roads at this time of the year, it can be a real pain to keep your car clean both inside and out. It is very important to keep your car clean during winter, though, as salt can rust the metal and wreck the upholstery. We've put together a list of 6 ways that you can keep your car clean this season, hassle free.
Replace fabric floor mats with rubber
Rubber floor mats can be cheap to buy, and they protect your floor from muddy shoes and salty water. Some people also put a towel underneath their rubber mats, as salty water can soak through the carpets and corrode the floor. It's a very simple but effective step in helping to preserve the cleanliness of your car.
Wash the car frequently
It's a good idea to wash your vehicle around every ten days, or on days when the temperature is above 5c during daylight hours. By using fresh water with some baking soda, you can dissolve any dried salt on your cars surface. Make sure to wash behind the mud flaps, under the door handles and the undercarriage, as dirt can build up quickly in these areas.
Give it a coat of wax
With all the dirt and grit that gets kicked up when you're driving, the paintwork on your car can do with an extra layer of protection. Ideally, you'd wax your car before the colder weather hits, but it's never too late to apply it. This will stop your paintwork from getting scratched, but if you do find a scratch or dent, there are many companies that will help to remove them, such as Dingmaster.
Protect your tires
Tires are extremely important to keep clean during winter, as they need to be able to grip the roads as much as possible to prevent skidding. Add a coating of wheel glaze to prevent brake dust adhesion, repel snow and ice, and protect the rubber. It will need regular reapplications for a high level of protection, but it's worth it to keep your tires clean and safe for use.
Cover it up
If you have to park outside during winter, consider buying a car cover. There are plenty on the market, with some offering more heavy-duty protection, and others designed to be lightweight for everyday use. However, all of them will help to protect your car against moisture and impact, meaning you won't need to de-ice it before driving.
Practice safer driving
In winter, you should try to avoid driving through very deep snow, as it can become packed into the undercarriage, exposing the metal to salt. You should also try to avoid driving through large puddles of water and slush if possible. Of course, the salt and grit have been laid down for our safety, and the importance of road safety greatly outweighs the downside of having a dirty car. By creating a regular maintenance routine and driving safely, your car will make it through the colder season.