Dive into Dominica at Dive Fest 2012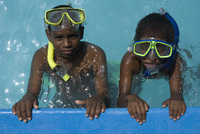 Organised by the Dominica Watersports Association (DWA), Dive Fest aims to raise awareness about the diving opportunities and unique marine life in Dominica, as well as bringing scuba diving to a wider audience. With volcanic vents, plunging sea walls and colourful reefs to soft corals, sea turtles and rare fish species, Dominica offers one of the best diving experiences in the world.
One of Dominica's most popular events, the annual Dive Fest will celebrate its 19th year this July and is open to locals and visitors alike. Experienced and beginner divers are welcome to take part, with a number of taster sessions available throughout the week for both adults and children. Some of these sessions are free of charge or at a considerably reduced rate.
Alongside the scuba diving there will be a number of other activities, including a whale watching excursion, swimming with the mermaids, a wine and cheese cruise, photography workshops, a children's treasure hunt, beach parties, the annual and hotly contested Kubuli Carib canoe race and of course the Soufriere Kubuli beach party, the climax to Dive Fest.
The detailed schedule of activities will be announced in the next few weeks.
Dominica (pronounced Dom-in-ee-ka) is a spectacular green island of rugged mountains, lush rainforests and rushing rivers in the Eastern Caribbean, lying south of Guadeloupe and north of Martinique.
For more information about Dive Fest and Dominica, visit discoverdominica.com.