Cruise companies reassure customers on safety standards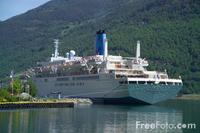 In the wake of the January 13 Costa Concordia tragedy, cruise companies have been working tirelessly to demonstrate the rigorous safety standards that they hold themselves to.
Royal Caribbean Cruises chief executive Richard Fain has responded candidly and openly to public concerns after the accident by addressing the prime concern of how cruises can be made safer in the future, rather than simply speculating on the past tragedy. He said in a recent Financial Times interview:
"It's so central to our success as a company and as an industry that it's a very appropriate topic of conversation. I also think that the whole subject is not just a question of numbers and technology and procedures. It's also a question of culture and consciousness. Safety should be a habit."
Though the Costa Concordia belonged to a Carnival Cruises Corporation subsidiary, Royal Caribbean's chief executive said that his company also suffered a noticeable shortfall in bookings over the traditionally strong January period. However, several months after the incident, it has become clear that most observers believe that the blame will ultimately be placed on the human error of the ship's captain, Francesco Schettino, rather than any inherent flaw in the ship's design.
Along with many other cruise companies, Mr Fain has defended the safety measures of his company's cruise liner designs, emphasising:
"There are steps we have taken – very powerful steps – to protect our passengers and our crew from human error, but we can always learn if there are things we can do even better."
In an effort to improve profitability as well as safety, Royal Caribbean – along with other cruise companies such as Princess Cruises – has decided to slow down its orders of new ships and concentrate on where best to operate their existing liners. This has had the benefit of opening up many exciting new options for holidaymakers as the cruise companies take stock and diversify into new territories.
Thomson Cruises have decided that the time is right for modernisation too, as the company will replace one of its older vessels – the 1982-built Thomson Destiny – with the significantly larger Thomson Majesty. This represents just one of the many decisions cruise companies have recently made which will hopefully allay public doubts on the safety standards of cruise holidays.
Thomson line manager Fraser Ellacott said: "Majesty is a fantastic ship with great onboard facilities, more outside cabins and the same first-rate service you'd expect from Thomson Cruises."