Fishing in West Virginia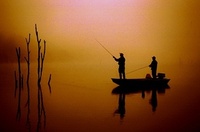 Fly fishing in West Virginia offers the complete outdoor experience for any angler visiting the Mountain State from hiking to mountain streams, tubing or wading in the rivers, camping under the stars in the wilderness or snuggled in lodges deep in the forest.
Fly fishing, whether it be trout or smallmouth bass, means fresh mountain air and breathtaking scenery in a state which is 80% forested (making it among the top three most forested states), with 2,000 miles of streams and rivers. West Virginia's 36 state parks and seven state forests form more than 200,000 acres of natural wonder and scenic beauty.
The abundance of wild and stocked trout in West Virginia offers a fulfilling challenge for any angler. Brown trout and brook trout represent most of the wild trout in the state, while most rainbows and golden trout are stocked.
Trout streams recommended by the state Division of Natural Resources include the Cranberry River, Elk River, the South Branch of the Potomac, the North Fork of the South Branch of the Potomac and Shavers Fork of the Cheat River. The Blackwater River which is full of brown trout, gains popularity every year, although the river runs through a canyon and hiking the distance can be challenging.
The Cacapon River, along with the Potomac and Shenandoah Rivers offer good smallmouth fishing while the 600 miles of streams in the Monongahela National Forest hold wild brook trout among other species. Fly-fishing, enthusiasts can hike out to Dry Fork, Otter Creek or Glady Fork among other streams.
For fishing packages to West Virginia, visit gofishingworldwide.co.uk.