Commercial landlord 'raves' about Loxal vacant property security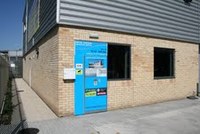 When three new office and warehouse units were unoccupied in White City, London squatting was not seen as a major risk. That was until the units were broken into and an illegal 'rave' started. So Ascot based property developer Stockbourne Group enlisted the services of vacant property security experts Loxal.

Dan Delaney, Director, Loxal Security Ltd writes; Situated just off the A40 in White City, W10 and with neighbours such as the BBC and Siemens, the Mitre Bridge Industrial Estate is by no means a crime 'hot-spot'. In fact its location and great transport links into London make the area very desirable. Property developer Stockbourne Group had made a significant investment in building three new office and warehouse units extending over 15,000 SqFt built to modern building – and security – standards. The properties were marketed as vacant through King Sturge, BNP Paribas and Jones Lang LaSalle and successful letting or sale of the units was expected very quickly.
However, the units also attracted some unwanted attention. In early March an organised and 'professional' team attacked and breached the properties through a solid steel fire exit door. Their intention was to hold an illegal 'rave' in the warehouse space and to cash in on party goers coordinated through social media sites. The landlord even kindly provided the electricity for the sound system.
Alerted by neighbours complaints, Stockbourne Group were faced next day with properties in a major state of dis-repair and in an un-lettable condition. Other than damage in entering the property, the entire space required extensive cleaning and re-carpeting before it could be shown to potential occupiers. So Stockbourne Group could miss a vital selling opportunity to realise their investment.
Urgent action had to be taken to secure the vacant properties as it was quite possible that the 'rave' organisers would return over the weekend to repeat the exercise. They would have seen the financial opportunity and want to cash-in again and again. Turning to vacant property security experts Loxal Security resulted in an immediate response to the risks. Firstly, the existing aluminium entrance doors and steel fire exit doors were replaced with Loxal's temporary anti-vandal steel doors. These offer a significant physical deterrent to potential intruders yet do not damage existing door frames which can be replaced once the property is occupied. Secondly, Loxal installed their unique wireless, battery powered temporary intruder alarm system which is monitored 24-hours a day. Alarm events are verified using built-in CCTV to minimise false alarms. The installation was completed within a day to protect the properties from repeat attacks.
The Loxal security system features an advanced digital keyless access control system which means that letting agents, repairs contractors and alarm response teams do not need to hunt down property or alarm keys. This assists the viewing process for potential occupiers and should speed re-letting.
Dan Delaney, Loxal Security Director says, 'Marketing vacant properties over the web is very successful however, it does make it very easy for metal thieves, squatters or vandals to search for unprotected targets. Loxal offers residential and commercial landlords the peace of mind that such risks have been mitigated and the non-invasive temporary design of our services means that the property remains desirable, can be quickly re-let and the asset value maintained.'
Michael Rickards, Director, Stockbourne Group says, 'The incident at Mitre Bridge was a disaster for our plans to let these properties and we risked repeat attacks which would extend the void period diminishing our income from this investment. I am delighted that Loxal could respond so quickly to our call for help and their attractive products, disguised as traditional entrance doors, avoid ugly boarding or fencing which would deter potential occupiers'.