Open Dark Chocolate Venison Ravioli with Herb Salad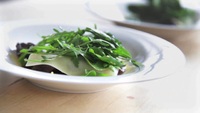 If a light lunch that doesn't sacrifice on flavour is in order this Easter, add an extra helping of chocolate indulgence that's perfectly balanced with a fresh herb salad courtesy of Fred Ponnavoy, head chef at Gü Puds.
In this video, Fred demonstrates how to entertain your loved ones this Easter with an exclusive recipe preview from the Gü Cookbook; launching October 2012. Designed to add style and sophistication to your gathering, this tasty dish is best enjoyed with three of your closest (and very lucky!) friends and family.
Serves four as a light lunch, with a little left over for a rainy day
Ingredients
800g venison, cut into 5cm dice,
2 large onions
2 carrots
6 cloves of garlic
1 sprig thyme
400ml of red wine, a good strong red, like a Merlot would be good
1 tablespoon plain flour
400ml beef stock
12g of unsalted butter
50g dark chocolate (about 50% cocoa solids)
3 tablespoons vegetable oil
8 sheets of fresh lasagne sheets
Herb salad
200g rocket, flat-leaf parsley and baby spinach leaves
extra virgin olive oil
½ lemon
Salt & pepper
Method
Tip the venison into a large bowl. Chop one onion and one peeled carrot in half. Lightly crush three cloves of the garlic and add to the bowl with the thyme and pour over the red wine. Toss well to coat, cover and refrigerate overnight.
Next day, tip the marinated meat into a sieve set over a bowl and pick out the vegetables, as they have now done their job.
In a large heavy based pan or casserole, heat a tablespoon of the vegetable oil and brown the venison (in 2 or 3 batches) adding a little more to the pan if needed. Brown well all over, then scoop out and continue with the rest of the meat. While this is browning, chop the remaining onion and carrot, and crush the garlic.
Once all the meat has been browned, remove it from the pan and set to one side. Add the chopped vegetables into the pan and cook for 5-6 minutes to cook and brown them slightly.
Tip the venison back in the pan with the vegetables, sprinkle with the flour and stir well. Turn up the heat and pour in the wine, stirring to get any bits off the bottom of the pan (this is called deglazing) and let it reduce by half. Season to taste.
Pour over the stock, give everything a good stir, cover and simmer gently for 1-11/2 hours or until tender. Towards the end, bring a large pan of lightly salted water to a boil for the pasta sheets.
Cut the lasagne sheets in half to create squares or rectangles. Drop the pasta into the boiling water and cook for about 3-5 minutes, until the pasta is just tender, but still with a little bite.
While the pasta is cooking. Mix the salad leaves and herbs together in a serving bowl, drizzle with a little olive oil, a squeeze of lemon juice, lemon zest and salt and pepper.
Drain the pasta well and to finish the sauce, stir in the chopped chocolate and knob of butter into the stew.
To serve - place a square of pasta on each (warmed) dinner plate. Spoon on some of the venison stew, place the remaining square of pasta on top and serve with the herb salad.
For more information and further recipes, visit facebook.com/GuUK.