Secret Bluebell Wood opens to the public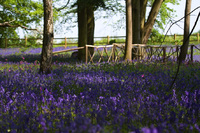 If experiencing one of the truly great spectacles of the English countryside in late spring appeals to you then a visit to Hodsock Priory is a must. Renowned for its amazing snowdrops display the historic priory will for the first time be officially opening its doors, in May, to welcome visitors to delight in and meander through its secret Bluebell wood.
Hodsock Priory, located near Blyth on the border of South Yorkshire and North Nottinghamshire has this year celebrated its 21st anniversary of snowdrops, and George Buchanan, ninth generation resident and general manager commented: "We have thousands of visitors to our fabulous snowdrop display each February but this year we will be opening our doors to a whole new spectacle that very few people have witnessed before here at Hodsock."
As the white blanket of snowdrops lifts for another year a tremendous ocean like view appears as the iconic wildflower forms a sea of blue throughout the 12 acre Horspastures Wood. The remarkable display of Bluebells has for years gone by unseen by the general public until now.
"We are thrilled to now offer visitors a chance to see the fantastic natural display of the antiquity of the English countryside, the Bluebell," said George. "Hodsock Priory is a beautiful location and a wonderful place to enjoy the warming late spring sun. Bluebells at Hodsock is a great day out as we are opening Mr Ford's Potting Shed nestled in the heart of the wood which will serve a selection of hot drinks and homemade cakes. Visitors can also take a short break and stay in our superb five star Courtyard accommodation whilst enjoying the delights of the surrounding area from the Welbeck Estate which houses the School of Artisan food to even the Yorkshire Wildlife Park."
Hodsock Priory will open the doors to its wonderful display of Bluebells when they are at their best in May. For specific dates and opening times visit hodsockpriory.com.

Admission is £2.50 each for all adults, £1 for children aged 6 -16 and those under six go free. Dogs are not permitted in the gardens or house.