Spend your birthday in style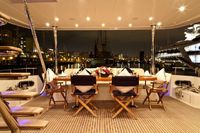 Sun, sea, and a sleek, luxurious motor yacht. Could you think of a better way to spend your birthday? Neither can we! Whether it's a day charter, a long weekend, or a two-week cruise, Samaric will ensure that your birthday is one to remember.
Based on the sunshine island of Mallorca, Samaric can accommodate a maximum of eight guests sleeping on board in two double and two twin cabins. For day charter, a maximum of 15 guests can climb aboard, with crew on hand to ensure that all you have to worry about is enjoying the celebrations!
So why not make this birthday ultra special. Simon Wood certainly did. He recently celebrated his 40th birthday and decided that the only way to do it was onboard Samaric.
"Turning 40 is quite a milestone is one's life," says Simon. "I wasn't too worried about it but I knew that I wanted to do something extra special. A friend suggested a luxury motor yacht which sounded like a fantastic idea, but I had to find the right one. When I came across the Samaric website, I knew instantly that she was the one for me.
"From cruising round the Balearic Islands and sampling the fresh local produce to sunbathing on the Flybridge listening to music, the entire experience has been fantastic, and one that my family and I will remember for many years to come. I'm actually looking forward to turning 50 – I certainly know where I will be!
To enquire about Samaric, visit motoryachtchartermallorca.com.