Top Egypt tours with Encounters Travel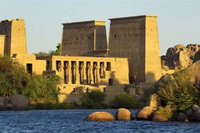 Egypt is a magical destination, home to some of the world's most iconic monuments and ancient civilisations, as well as bursting with architectural splendour. Cairo's legendary pyramids are merely the tip of the archaeological iceberg. And there's no better way to enjoy its exotic sights and smells, than on a guided tour. What's more, Encounters Travel is offering up to 30 per cent off some of its small group adventure tours of Egypt if booked before 30 April. With prices starting from only £276 per person for a nine-day visit, there's no better time to book.
Whether a solo traveller, a couple or with a group of friends, Encounters Travel's Egypt tours offer a perfect mix of history, culture, architecture, breathtaking sites, year-round sunshine, beautiful sandy beaches and coral rich waters for relaxation and snorkelling. They also combine comfortable four-star hotel accommodation with the odd night somewhere unique for a true once-in-a-lifetime experience – such as on board an overnight train or a traditional felucca boat along the Nile, where guests sleep on an open-deck sailboat under the stars.
New for 2012, Encounters Travel offers a brand new 'facilities boat' to accompany their felucca cruises along the Nile. The facilities boat houses toilets, showers and even offers traditional Nubian massages on the top deck, so guests are always kept in comfort.
Book before 30 April and save up to 30 per cent on selected Egypt tours. Travel can be anytime in 2012. For more information view the special offers page. Options include:
Best for budget: 9-Day Nubian Adventure tour from £276pp (30% off)
This tour includes visits to the Pyramids in Cairo, the Philae temple in Aswan, the rock temples at Abu Simbel, Luxor, the Valley of the Kings and a short cruise along the Nile Valley.
Best for sightseeing and sun: 14-Day Nubians & Beaches tour from £416pp (30% off)
This comprehensive two-week tour includes all the major sites including the Pyramids, the Philae temple in Aswan, the rock temples at Abu Simbel, Luxor, the Valley of the Kings and a short cruise along the Nile Valley, finishing with a four-night stay on the golden beaches at Dahab.
Best for alternative Egypt: 8-Day Siwa Explorer tour from £412pp (30% off)
This is the ideal trip for travellers returning to Egypt or for those wishing to explore the lesser visited sites northwest of Cairo taking in Alexandria, El Alamein and the rugged desert landscapes close to Siwa Oasis.
Prices exclude international flights, which are available on request. All tours include airport transfers from / to Cairo and a fully qualified Egyptologist guide throughout.
For more information, visit encounterstravel.com.