Historics to offer unprecedented project with added intrigue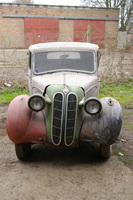 A unique restoration project with a history file that reads like a who's who of motoring craftsmanship, is due for auction by Historics at the Brooklands Museum on Saturday 26th May.

The one off Frazer-Nash BMW is testament to the legend of the marque, with the company's intriguing history undoubtedly adding to the lure of the project.

Having taken on AFN Ltd. from founder Archibald Frazer Nash in 1929, the company's new owner – HJ Aldington – responded to BMWs growing reputation within motoring, by brokering a deal that saw him appointed importer and manufacturer of BMWs in the UK under license.

Although the vast majority of Frazer-Nash BMWs arrived complete as right hand drive cars already bearing the Frazer-Nash badge, AFN Ltd. did receive a number of 319, 315, 320 and 326 chassis for the building of their own anglicised BMWs.

An agreement was latterly reached with coachbuilder and former Aston Martin owner Enrico Bertelli, or Harry to his friends, to body the imported BMWs from his workshop next door to the Aston Martin site.

The restoration project on offer with No Reserve at Historics' forthcoming auction is the only 320 2 litre, four door saloon ever built by Bertelli.

Chassis 90813 was imported in 1937 with the aim of producing a prototype for further production in 1938. Although marketing material was produced ahead of its launch, the model never saw the light of day.

This Bertelli 320 was a very advanced motor car for its day, originally powered by a 1971cc 6-cylinder ohv cast iron engine, capable of 45bhp at 3750rpm. Drive was through a single plate clutch to an aluminium cased 4-speed box with synchromesh on 3rd and 4th gears, whilst braking was by hydraulic system including 11inch drums and cable operated handbrake.

Whilst the earlier Frazer-Nash BMW's used a tubular chassis, this 320 used the later box section design with Bertelli's coachwork fabricated in aluminium with steel nose and wings. The chassis did incorporate the superb rack and pinion steering of the earlier cars with a transverse front spring, built-in hydraulic shock absorbers below and conventional semi-elliptic springs to the rear.

Although the car is currently in 'barn find' condition, it is on offer at auction without its original engine, gearbox and steering rack (although a blank block, head and gearbox are with the car). Any potential purchaser may be encouraged to note though that the Bristol engines and gearboxes are virtually identical in looks and design to the BMW items.

The rest of the car is remarkably intact and still has its original instruments and interior trim although these also require full restoration.

For more information, and to attend the Historics at Brooklands auction on the afternoon of Saturday May 26th, visit historics.co.uk. Entry by catalogue only, available prior to, or on the day of the auction.